Agriculture Dept. reviewing milk, coffee prices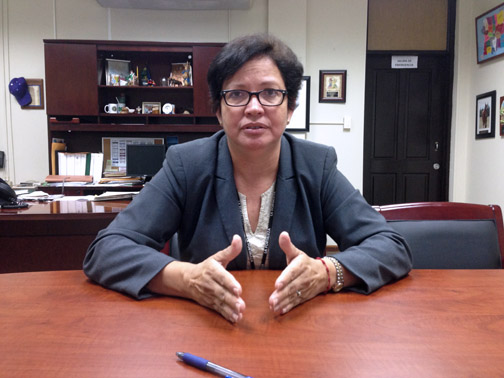 The Agriculture Department is currently reviewing milk and coffee prices to determine whether increases are necessary for the products that are staples for Puerto Rican consumers. The results for both reviews should be ready by summer, agency Secretary Myrna Comas said.
While the price of milk was revised last in 2011, coffee prices have remained steady since 2005, she noted.
"We're at the final stages of completing the economic study to review the price of milk, which should be ready in a month," Comas confirmed. "We're evaluating alternatives so that consumers are affected at least as possible, if there were to be a price increase."
Some of those alternatives include several projects whereby dairy farmers could see an increase in demand for milk through the development of new by-products aside from Ultra High Temperature milk, white cheese and butter, currently in production at Industrias Lecheras de Puerto Rico, known as Indulac. An increase in demand could offset a price hike at the register.
Another avenue the agency and farmers are exploring is establishing one or more processing plants, like the government-owned Indulac, to be run by private operators, she said.
"We're looking at what can be produced, and the possibility of establishing another processing plant," she said, without disclosing further details. "Also, we're looking at the performance at the dairy plants, because right now, milk production per cow isn't the highest and neither is efficiency."
Milk production is Puerto Rico's biggest agricultural sector, with some 320 active dairy plants — mostly located along the island's northern coast — that have been feeling the brunt of the tough economic conditions and escalating operational costs mostly associated with electricity and feed. In recent years, more than 30 plants have filed for bankruptcy protection, in hopes of warding off creditors and reorganizing their finances rather than shutting down in a market where milk consumption is also dwindling.
Coffee battles weather, neglect
As for coffee, another bastion of the island's agriculture, Comas said the sector has been battered in recent years by the weather and neglect at the farms, "by people who didn't see coffee as a job source."
During fiscal 2013, Puerto Rico's coffee production reached a historic low of 8.8 million pounds, less than one-third of the 27 million pounds that local consumers demand annually.
"When we saw how low production was, we took it upon ourselves to strengthen the coffee industry," she said. "We signed contracts with 28 nurseries to produce seeds that are already providing trees to plant. Last year, 800 acres were planted, and this year, we're looking to add another 2,800 acres."
The additional acres pushed the island's coffee production levels to 10.1 million pounds, she said, adding the agency's plan calls for blanketing 16,000 acres of land along a 21-town stretch by 2016, she said.
But even then, Puerto Rico's coffee sector wouldn't meet local demand, she said.
"We used to have 30,000 acres of farmland planted with coffee. Some have been abandoned, others have not received proper plague control treatments," she said, noting that presently, there are farms in Maricao and Yauco battling the "Roya" plague, which is essentially a fungus that attacks the coffee plant.
"We're working to control that problem through pesticides and fungicides," she said.
Another plague that has reportedly spread is the "coffee berry borer" pest, which has been harming beans since it was first detected in 2007. Over the weekend, Resident Commissioner Pedro Pierluisi announced that the U.S. Department of Agriculture will allocate $300,000 to help Puerto Rico farmers fight the problem.
"This new federal funding is arriving at a time when the coffee industry in Puerto Rico is beginning to rebound after years of challenges, which were triggered in part by the arrival on the island in 2007 of the non-native coffee berry borer," he said.
"Traditionally, coffee has been harvested in Adjuntas, Lares, Utuado, Maricao, Jayuya, Yauco, Orocovis, Ciales, Las Marías, and San Sebastian. The USDA is scheduled to release next month the latest five-year agricultural census for Puerto Rico, which will provide the most up-to-date information about the current state of all of the island's crops, including coffee," he said.
Meanwhile, the local agriculture agency is looking to support producers who want to export specialty, high-quality coffee associated that is the result of harvesting coffee berries at the peak of ripeness. At present, a meager 0.2 percent of Puerto Rico's high-end coffee production is exported to markets in the U.S. mainland, Italy, Japan and Spain, Comas said.
"Our expectation is to increase exports, inasmuch as we continue producing special coffee. There are many farmers who have moved to complete all of the phases of production — from harvesting to packaging — to maximize the quality of their product," she said. "We're helping them participate in international fairs, to showcase their products and increase sales."
As for coffee prices at the consumer level, which the government controls through the Department of Consumer Affairs, Comas said the agency has spent the better part of the last year analyzing if a revision is due.
The results of that study should be ready by summer, ahead of the start of this year's harvest, she said. If an increase were due, she said the agency would look at its portfolio of incentives to see if any could be offered to prevent a price increase from affecting consumers.
'Agriculture represents security'
The Agriculture Department provides Puerto Rico farmers in general more than $73 million in annual subsidies and incentives, which essentially support food production on an island that imports about 85 percent of the goods it consumes.
Although the number may seem high, Comas said agriculture "represents food security, and most countries in the world incentivize their agriculture sectors. It's an incentive for consumers, to farmers, so they have access to food."
Nearly half of the money is earmarked for payroll subsidies ($36.1 million), $12.3 million goes toward dollar-for-dollar matched investment incentives, while the milk sector receives $10 million in government assistance.