Annual Interphex expo slated for Oct. 16-18 in San Juan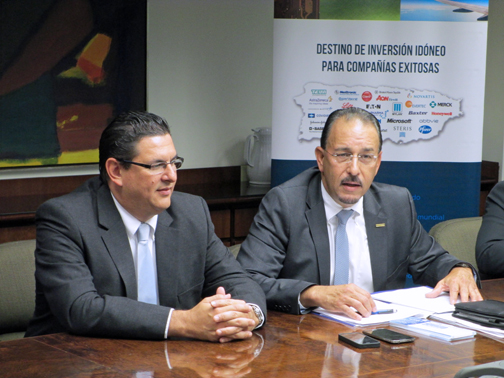 The International Pharmaceutical Expo's Life Sciences Innovation Week — an event sponsored annually by the Parenteral Drug Association, focusing on showcasing pharmaceutical and biopharmaceutical innovation, technology and knowledge — is slated to take place Oct. 16-18, 2014 in San Juan, organizers announced Tuesday.
The event, known as Interphex, is the Puerto Rico's source for biotechnology, pharmaceutical and medical device manufacturing solutions, and draws more than 5,500 key decision makers and 200 leading technologies suppliers through a unique combination of exhibition, education, workshops, partnering opportunities, one-on-one meetings and networking sessions.
"Co-located with Medical Device Puerto Rico and the Latin American Supply Chain Expo, together we offer a comprehensive, state-of-the-art showcase for industry professionals who are looking to source new technologies, products and services," said RJ Palermo, industry vice president of Interphex.
"Puerto Rico is home to many leading multi-national companies and is considered a hotspot for life science innovation. We are pleased to feature state-of-the-art innovation and excellence for the benefit of the pharmaceutical, biotechnology and medical device industries," he said.
Since 2006, the event has been touted as an ideal setting for the presentation of innovative technologies, along with a specialized educational program featuring conferences and workshops focused on industry trends, technical development, regulatory guidance and training opportunities.
"Interphex Life Sciences Innovation Week continues to provide a platform to take advantage of the best networking opportunities, meet with leading technologies suppliers and access to manufacturing expertise all with one purpose: achieving operational excellence, reducing costs, and improving the quality of products manufactured in Puerto Rico," Palermo added.
Workshops at this year's Interphex Life Science & Innovation Week include: Regulatory and compliance new trends and best practices; Process validation guidance — developing the approach on inspections; Serialization: the road to implementation; Culture: a challenge for reaching sustainable operational excellence; and Puerto Rico's development models as a competitive advantage, among others.
"This year, Interphex Life Sciences Innovation Week's educational programs include industry professional and subject matter experts, educating attendees on biotechnology, medical device and pharmaceutical manufacturing solutions to confidently process, fill and finish life enhancing drugs and devices," said Iván Lugo, executive director of INDUNIV, which organizes the activities.
Through the lineup of workshops, industry experts seek to offer attendees an island industry outlook with a presentation on: "Puerto Rico's pilot plants development models as a competitive advantage: Justification, Requirements and Opportunities." Also, a specialized industry forum offers an in-depth look at a wide variety of technical topics relevant to the biotechnology and pharmaceutical industries, such as "Cutting costs and saving time: Development of new medicine," discussing how new medicines are introduced into the market often at a high cost to the manufacturer and to the consumer.
"The Interphex platform is very significant for the Puerto Rico Industrial Development Company, allowing us to showcase the capabilities of Puerto Rico as an investment destination for life sciences, develop and strengthen our relationship with companies and identify new business opportunities," said Antonio Medina, executive director of the Puerto Rico Industrial Development Company, during a roundtable Tuesday to offer details of the upcoming event.
"Our participation in this forum is part of a comprehensive industrial development strategy focused on protecting existing operations and attracting expansion opportunities and new investment," he said.