Crowley boosting capacity in Puerto Rico maritime route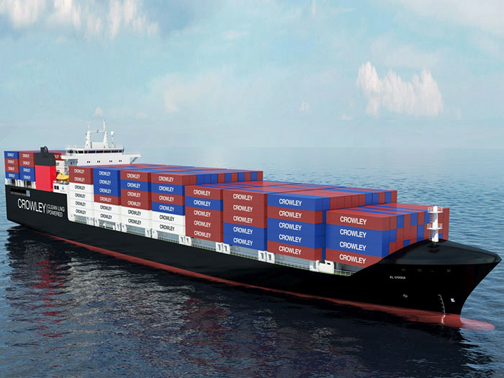 Crowley Maritime Corp.'s liner services group announced Monday it will add flat deck barge to its South Atlantic Puerto Rico service in March, increasing the rotation between Jacksonville, Fla., and San Juan to four sailings each week.
The new service will provide additional capacity of 400-foot equivalent units. The company will also replace the existing 580-foot, triple-deck barges with larger, recently modified 730-foot, triple-deck barges in the North Atlantic–Puerto Rico trade, between Pennsauken, N.J., and San Juan, increasing capacity by more than 40 percent in that lane.
To support the increased capacity in both services, Crowley will add more than 6,000 pieces of cargo carrying equipment including a combination of dry and reefer containers and chassis.
"With the changes in the marketplace, we expect strong demand for space on our vessels, and we are stepping up to provide improved capacity, equipment and sailing frequency to benefit our customers," said John Hourihan, senior vice president and general manager, Puerto Rico. "This service enhancement is another indication of our commitment to the people and businesses of Puerto Rico, whom we have been pleased to serve for over 60 years.
Crowley joins competitor Sea Star in increasing capacity, replacing the routes vacated by Horizon Lines this month.