Burson-Marsteller named LatAm 'Agency of the Year'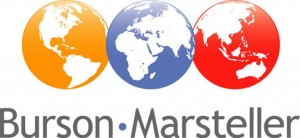 The Holmes Report has named global public relations firm Burson-Marsteller the "2013 Latin American Agency of the Year." This recognition comes to the firm after a year of growth and award-winning work in the Latin American region. The Holmes Report will present the award at its annual SABRE Awards Dinner on May 7 in New York City.
"The Burson-Marsteller team in Puerto Rico is honored to be part of this recognition. We also extend this acknowledgment to our clients, who continue to place their confidence in us and in our industry-leading network of communications professionals across Latin America," said Lynnette Teissonniere, Burson-Marsteller Puerto Rico market leader.
"Every day, our team develops public relations strategies that are innovative in the local market and that will exceed our clients' expectations," she said. "This commitment has driven our success for 32 years in Puerto Rico and will continue to be our guide as we continue to grow as a leading agency."
The firm experienced double digit growth in Latin America in 2012, with new business wins from new clients and significant growth from existing clients. Additional growth also came from the expansion of the Latin American region's digital and social media practice.
"We are extremely grateful for this recognition by The Holmes Report and to our clients for their confidence. Burson-Marsteller understood the importance of Latin America as early as 1977 when we opened our first regional office in Sao Paulo," said Ramiro Prudencio, CEO for Burson-Marsteller Latin America.
"Today we are a vibrant firm with 12 wholly-owned offices, in 10 countries, and four affiliates serving top tier national and multinational clients – dedicated to excellence and innovation in communications in this exciting, growing and dynamic region," he said.
In 2012, the firm received a Global SABRE Award for Public Affairs from The Holmes Report for its work in Argentina with Pedigree on its "Animal Day: Signatures to Update Argentine Animal Protection Law" campaign. The campaign also received a 2012 Americas Gold SABRE Award in the Latin American Campaign category.