Crowley Selects Eagle LNG as marine fuel provider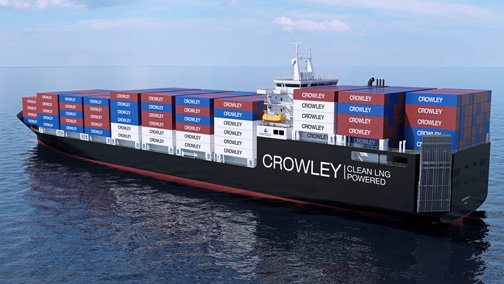 Crowley Puerto Rico Services Inc. announced Thursday it has selected Eagle LNG Partners as the liquefied natural gas-supplier for the its new LNG-powered, Commitment Class ships, which will be delivered in 2017 for use in the U.S. mainland to Puerto Rico trade.
To support Crowley's LNG needs, Eagle LNG will build an LNG plant offering a capacity of 200,000 gallons per day — 87,000 gallons per day initially — in Jacksonville. The facility is slated to be operational by early 2017.
Crowley decided to partner with Eagle LNG based partly on the companies' shared commitment to the environment, the maritime shipper said.
"Crowley is proud to take a leadership position in the industry's shift to cleaner-burning, natural gas fuel solutions," said Crowley's John Hourihan, general manager, Puerto Rico services. "The partnership with Eagle LNG is an important first step in developing sustainable supply infrastructure to ensure these highly technical, environmentally friendly vessels operate to their full capability."
The supply agreement between Eagle LNG and Crowley will provide LNG fuel for the El Conquí and Taíno, which are expected to be in service in the second quarter and fourth quarter of 2017, respectively.