Distrito T-Mobile unveils 3 new murals, celebrates local art with Urban Canvas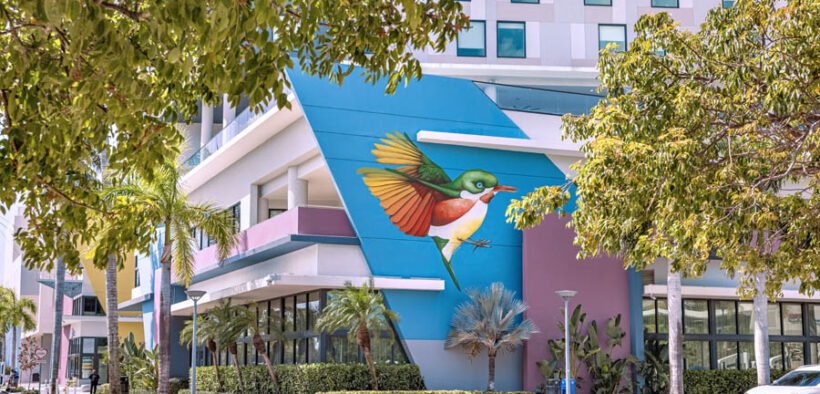 The Distrito T-Mobile entertainment complex in San Juan will be hosting Urban Canvas, a pop-up art exhibition in support of the island's artistic talent, from May 26-28.
The three-day event will also feature live muralists, "local markets," music by several DJs and what organizers called and excellent culinary offering, among many other experiences designed to inspire creativity.
"It's very important for us to foster innovation by consistently providing different experiences in entertainment, gastronomy, art, and culture that are accessible and fun for all Puerto Ricans and visitors," said Francisco Mariani, general manager of Distrito T-Mobile.
"Once again, Popular Plaza gives us the opportunity to share unique family experiences with our loved ones, and this is an integral part of Distrito T-Mobile's commitment to providing a safe, joyful and celebratory environment," Mariani added.
The event will begin today at Popular Plaza at 5 p.m. with live muralists and music by DJ Mikey. Over the weekend, the mobile art gallery of Trailer Park Projects will host a dual exhibition featuring artists Pedro Vélez and Alejandro "Saki" Sacarelo.
Vélez will present his exhibition titled "Secret Garden," a collection of works inspired by art from the Pre-Raphaelite period from the Ponce Art Museum collection. Sacarelo will present his exhibition "Dreaming the Dream," a series of works in the form of a play on words where phrases intertwine and acquire different meanings individually and collectively.
To see the works, chat with the artists and visit the pop-up trailer, those interested may do so near the entrance of the Magenta Lot of Distrito T-Mobile from 12 p.m. onward over the weekend.
On Saturday at Popular Plaza, local markets by Chroma Local Design Shop will be open from 2 p.m. to 9 p.m., The event will also include a variety of culinary offerings, artists such as Juan Ramón Gutiérrez from Stencil Network and Ronny R. Pena from LX Musx live-painting Distrito T-Mobile areas with street art, and music from the alternative rock band Básiko and DJ Guario starting at 7 p.m.
The celebration continues on Sunday at 1 p.m. with music by DJ Sammy, Bloody Rose and DJ Mikey. In addition, starting at 4 p.m., the film "The Happy Accident," directed by Paloma Suau and inspired by artist Antonio Martorell, will be shown on the Popular Plaza screens.
"Being able to give exhibition space to our artists and offering the opportunity for constant recreation to the general public makes us proud and is an integral part of our mission and that of our partners," said Nelia Villanueva, director of sales, marketing and communications for Distrito T-Mobile. "This mission allows us to continue positioning ourselves as Puerto Rico's premier entertainment destination, always powered by innovation, technology and culture."