eMobilePOS chosen tech for World Salsa event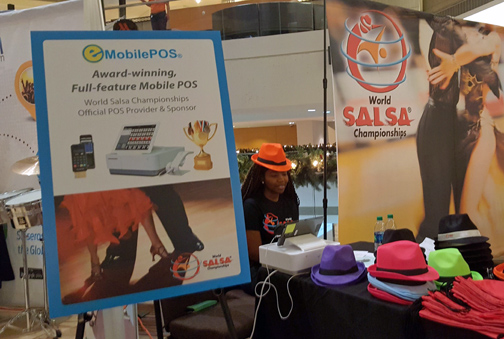 Puerto Rican payment technology software eMobilePOS was recently chosen as the official point-of-sale solution provider and sponsor of the 5th World Salsa Championships held in Atlanta over the weekend.
The software for tablet and mobile point-of-sale was used for admission and retail merchandise sales at the World Salsa Championships and other events in 2017 and beyond, company executives said.
Event organizers chose eMobilePOS running on a Samsung Galaxy Android tablet, paired with the Star Micronics mPOP that combined a cash drawer and receipt printer in one space-saving design.
"eMobilePOS enables us to streamline ticket sales with the ability for visitors to conveniently pay with credit card at the door," says Noel Roque, president of the World Salsa Championships.
"The same POS solution was also used for all merchandise sales during the event, allowing visitors to use credit cards for all purchases with significant impact on our sales revenue," he added.
eMobilePOS is a full-feature, tablet-based POS solution with integrated payments and multi-location inventory controls while serving a multitude of sales scenarios in retail and hospitality.
It can be set up in minutes, offers a variety of hardware options to adapt to space and physical conditions, provides both counter-top and mobile POS options and scales easily from a single-store operation to a chain-store operation to venues of various sizes.
"eMobilePOS is honored to [have worked] with a world-class organization such as the World Salsa Championships," said Joel Vázquez, CEO of e-Nabler.
"By partnering with Star we are able to offer the World Salsa Championship a complete POS solution that works really well in a venue-based environment and has the ability to handle tickets, merchandise, and food sales," he said.
eMobilePOS is available for Android, Apple iOS, and Windows 10.