Fast food credit card purchases get more expensive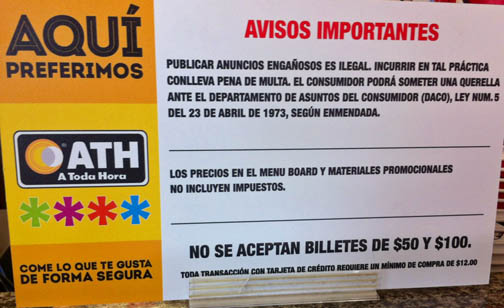 If you've gone to a fast-food restaurant lately and noticed a sign announcing a minimum purchase of $10 if paying with a credit card, you should know the policy responds to a federal law passed late last year regulating so-called "swipe fees," or what merchants must pay debit card companies to process transactions.
The law, which came into force this summer, has significantly affected small ticket purchases, such as those rung up by restaurants like McDonald's, Burger King and other fast-food places, because they are now paying higher fees per transaction.
To cope with the newfound scenario, on Aug. 1, some 600 restaurants in Puerto Rico responded by agreeing to establish the minimum required for credit card purchases authorized by the Durbin Amendment, a last-minute addition to the Dodd-Frank Wall Street Reform and Consumer Protection Act of 2010.
Humberto Rovira, president of the Puerto Rico Restaurants Association, known as ASORE, said the amendment essentially clobbered local quick service restaurants, which were forced to find a way to cope with the higher fees while not increasing menu prices.
"We had to come up with a formula that presented the best option for consumers and the industry," Rovira said. "We were able to address debit card purchases through an agreement with Evertec, which processes ATH-branded cards in Puerto Rico. And instead of eliminating the credit card payment option, restaurants decided to implement the minimum for Visa and MasterCard purchases."
While the details of the agreement with Evertec were not disclosed, Rovira said the processing company significantly reduced the cost-per-transaction to ensure that ATH-branded debit cards would continue to be an option for consumers.
"The amendment essentially increased our credit and debit card processing costs by 50 percent," he said. "We had to enter into this negotiation with Evertec because we had no way of telling consumers that prices would increase because credit card fees had increased."
"We also couldn't take away the option of paying with an ATH-branded card, as more than 95 percent of local cardholders use them," he said.
Standing in the middle of the mess are customers who hold ATH cards that are branded with a Visa or MasterCard logo, because in those cases card processing can go either way: as debit or credit.
That said, News is my Business has already witnessed several instances in which employees at different fast-food restaurants have taken the "blame the system" route to process the transaction as credit, thus railroading consumers into a higher purchase.
However, Rovira said restaurants cannot refuse to let clients use their personal identification numbers to avoid the established credit card minimum.
"All of the card processing equipment in use gives both options, credit or debit. There should be no excuse not to accept an ATH card, even if it has the logos," he added.
Durbin Amendment challenged
When approved, the Durbin Amendment required the Federal Reserve to establish regulations to guarantee that swipe fees would be reasonable and proportional to the costs associated with processing the transactions.
In June 2011, the Fed announced its final rule to set a limit on swipe fees that merchants pay for debit-card transactions at 21 cents per ticket – "less than the average 44 cents that merchants previously paid, but a significant increase over the 12-cent swipe-fee cap that the Federal Reserve first proposed in December 2010," explained the National Restaurant Association, which last year joined a lawsuit challenging the Fed's regulations.
Meanwhile, Visa and MasterCard were given new leeway in their negotiations with merchants, allowing them to set the $10 minimum and other conditions favorable to them.
"While the Federal Reserve's rule significantly brought down debit swipe fees for many merchants, some small businesses will pay higher fees on smaller ticket transactions — evidence that the Fed provided card networks like Visa and MasterCard too much latitude to increase rates well above a reasonable and proportional level," said Scott DeFife, executive vice president of Policy and Government Affairs for the NRA.
"Allowing higher fees on small-ticket bills was not the intent of Congress, and the Federal Reserve must reconcile this failure to comply with the law as intended," the trade group said.
ASORE is also joining the lawsuit with the hope of getting the Fed to review and revise its regulation in favor of the smaller retailers, Rovira confirmed.