FastSigns sets up shop in Guaynabo, plans 4 more stores
FastSigns, a Texas-based signage, graphics and visual communications company, officially opened its first local franchise in Guaynabo on Thursday, marking its first foray into the Puerto Rico market.
In an interview with News is my Business, FastSigns CEO Catherine Monson explained that the company's incursion into the Puerto Rico market was possible through an agreement with three local entrepreneurs who already had a graphics and promotional arts firm and agreed to convert it and join the established chain.
"FastSigns International has focused on Puerto Rico as a key market for expansion in the Caribbean, due to its importance in the region," she said. "Knowing the value of having the right franchise partner, we postponed expansion here until we found strong, visionary strategic partners."
That said, the company struck an agreement with partners José Corujo, Teresa Caballero, and Juan Rivera to enter the market. The Guaynabo store is the first of five that will go up in the next three years, with a related total investment of between $1.2 million and $1.5 million, Corujo, a former Tourism Co. executive director.
"With their business acumen, local knowledge, strong network and industry experience, coupled with FastSigns strong brand, technology and processes, we are confident that FastSigns of Puerto Rico will become the leading force in the visual graphics, signage and advertising space on the island," said Monson, adding the next store will open next year in Caguas.
Established in 1985, FastSigns has been in the business of creating signs, graphics and visual communications media for diverse industries. Its products and services lines include vehicle and floor graphics, point of purchase and digital signs, labels and decals, architectural and interior décor signs, printing, promotional products and "wearables," mobile marketing and other related marketing services. The signage industry generates about $15 billion in economic activity annually in the U.S.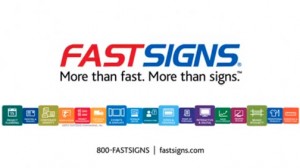 In Puerto Rico, FastSigns will offers its services to 29 different industries, though its core business will be centered on point-of-sale visuals for the food and financial sectors, Corujo said.
"Our market has grown significantly since we entered the industry, and joining FastSigns allows us to offer our customers more value-added services to help them establish effective and efficient visual communications plans," said Corujo, noting that prior to taking on the FastSigns name, the company was known as P.O.P. @ Your Needs.
Meanwhile, Rivera said "we're now better positioned to meet the needs of our marketplace, which is gearing toward a greater use of digital media and content, carpet and floor graphics, high resolution printing on textiles and other materials, wraps for vehicles, and a stricter compliance with new regulations under the American with Disabilities Act that went into effect in March."
Aside from offering the traditional signage services, Caballero explained that the service is coupled with individual consulting with customers, to figure out exactly what they need at the moment and long-term.
"We offer consulting, planning, sales development, brand integrity, corporate identity, content development, permits and installation services for exhibits, signs and other visual promotion products that deliver to our clients concrete solutions to fill their business needs," she said. "Our mission is to increase brand awareness using non-traditional media."
The new FastSigns franchise in Puerto Rico already has expansion plans to establish presence in Caguas, Carolina/San Juan, Ponce and Mayagüez over the next three years.
So far, the FastSigns chain runs more than 535 stores throughout the world, with the next one opening in Saudi Arabia next week. As for the Caribbean, the company has presence in the Cayman Islands and may expand its footprint sometime in the future through its Puerto Rico partners, Monson said.