Free bus service links Hato Rey and Plaza Las Américas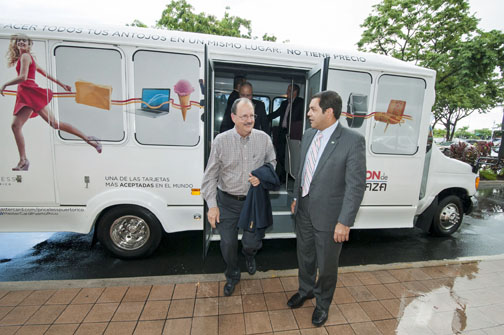 A transportation service to ferry people from the heart of Hato Rey to Plaza Las Américas weekdays during peak hours will debut Sept. 24, courtesy of the mall management. The service is free.
"Our philosophy has always been how we can be of better service," said Plaza Las Américas President Jaime Fonalledas about the program dubbed "El Pon de Plaza" or "A ride to Plaza."
The service, which will be managed by AmeriPark, the company that provides valet service to the mall, will cost between $6,000 to $7,000 per month to operate, according to Fonalledas.
In three months it will be evaluated and possibly expanded to benefit more people. For now, an average of 200 people is expected to use the two buses assigned to the pilot program. Each bus can carry 21 passengers.
Fonalledas dismissed any suggestion that traffic at the largest mall in Puerto Rico and the Caribbean is down. He said the mall attracts 65,000 visitors daily.
"This is an additional service," he said.
"A Ride to Plaza" aims to make it easier for people who work in Hato Rey or happen to be in the area to reach Plaza without need of a car, thus saving time spent in traffic and trying to find a parking spot at the busy shopping center. The service will run between 11 a.m. and 3 p.m., the mall's peak hours.
"We have always been aware that a lot of people from Hato Rey like to come (to Plaza) for a bite, even if it's just an ice cream, and to buy something," Fonalledas said.
Users of the Urban Train also will benefit since the bus service will stop at the Roosevelt Ave. station, which gets an average influx of 1,700 people each day.
Available from Monday to Friday, the bus service will operate in a loop, making four scheduled stops along the way. Leaving from Plaza Las Américas (in front of the entrance to Banco Santander) every 15 to 20 minutes, the bus will take Chardón Ave. and stop first in front of the Federal Building, then swing over to Luis Muñoz Rivera Ave. and stop at the former WesternBank building.
After a third stop at the Roosevelt Ave. Urban train station, the bus will head back toward Plaza stopping along the way in front of the San Juan Municipal tower and the Lottery building on Chardón Ave.
"It's an additional effort to keep developing awareness of how we can move within the city using public transportation," said Miguel Torres, secretary of the Department of Transportation and Public Works (DTOP, by its Spanish acronym).
Torres joined Fonalledas and members of the press in a demonstration of the service, which indeed proved fast and efficient, though there didn't seem to be much traffic along the way. Plaza, on the other hand, was packed on Monday.
"People were paid on Friday," quipped a taxi driver, giving his own spin on the matter.