Government pumps $4.2M into Punta Santiago Natural Reserve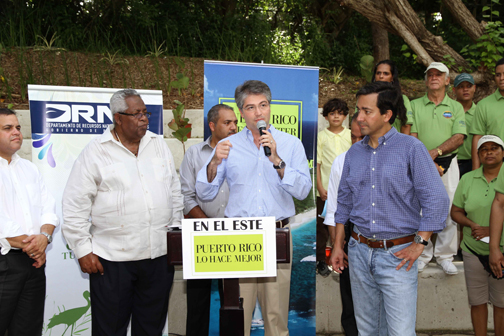 The Punta Santiago Natural Reserve in Humacao is working on the final details to become the island's first ecotourism reserve, following an investment of more than $4.2 million to prepare facilities and hire staff, government officials said after a tour of the facilities late last week.
The upcoming opening culminates an interagency and community effort aimed at diversifying island tourism, create new jobs and boost the eastern region's economy through the development of microbusinesses and preservating the environment, Tourism Company Executive Director Mario González said during a news conference at the facility.
The joint initiative between the Department of Natural and Environmental Resources, Tourism and the Community Education Program and Service Delivery Program, known as PECES in Spanish, at the Punta Santiago Reserve, will provide visitors with kayak rental services and guided tours, bike rentals, and arts and crafts, food and refreshments shops.
These services will be operated by the Humacao Ecotourism Initiative, composed of local micro-businesses which will generate 22 new jobs as a result. In addition, PECES is hammering out agreements with educational institutions in Humacao to create a host program through which students from the areas of tourism and biology will have the opportunity to work voluntarily in the project.
"Collaborative arrangements such as this one not only succeed in creating a new tourism offer on the island, but help us generate new allies for the protection and conservation of natural resources," said DNER Secretary Daniel Galán.
The $4.2 million investment is broken down into $4 million to cover the design, construction, signeage, permits and environmental impact studies, among other project details. The DNER invested $200,000 to remodel different parts of the reserve, including building bathroom facilities with showers, remodeling gazebos and buying a trailing that it will use as its management office.
The Humacao Natural Reserve was formally established as such in 1984. The ecotourism project currently in the works began to take shape 20 years later, González said.