Grupo Guayacán unveils lineup of 29 startups for EnterPRize 2021 competition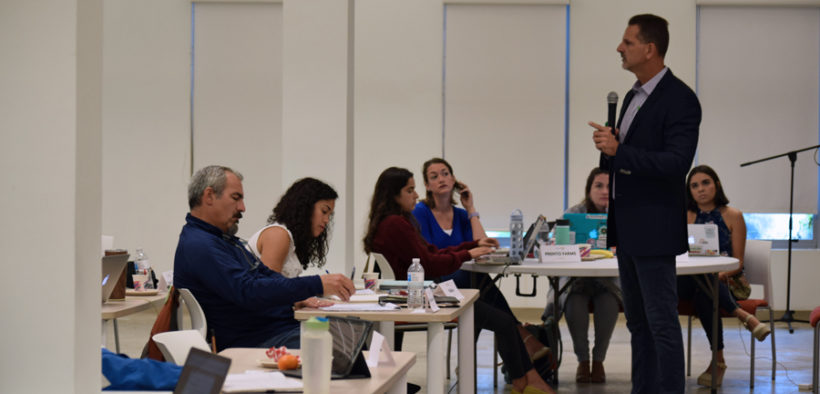 Grupo Guayacán announced the official selection of 29 emerging businesses from Puerto Rico that will compete in the 16th edition of the EnterPRize business competition.
As part of their selection, all companies will receive an initial incentive of $1,500 and the opportunity to compete for more than $220,000 in seed capital, among other prizes, the nonprofit confirmed.
Some of the participating companies include agribusinesses, skin care brands, food production businesses, theater companies, mental health services, and business services, among others.
As part of their participation, they will receive coaching and mentoring to help them make informed decisions about their next steps toward growth.
"We're extremely excited with the outcome of this year's recruiting since we have exceeded our expectations in participation and were able to add new prizes," said Katerina Sánchez, Grupo Guayacán's program director.
"The competition starts in a virtual format this June, at a pivotal moment for this group of entrepreneurs who have managed to stay afloat despite all obstacles," she said.
"The competition this year includes robust educational program and multiple mentoring and coaching opportunities with experts. In addition, there will be an initial economic relief and the opportunity to win seed capital that helps all businesses flourish," Sánchez added.
EnterPRize is Grupo Guayacán's business competition that offers emerging companies a solid entrepreneurial education program, guidance from experts in diverse fields, and coaching during and after the program's completion.
The group of businesses that will compete this year is composed of the following companies:
Arnie's Creamery: An artisan ice cream shop;
Asset Shelf: A platform that allows contractors to sell their excess materials to real estate investors;
Auditorium: A mobile application with continued education audio tools;
AWA: A local brand of products to be used in water or water-proof products;
Buen Provecho Nutrition Services: A virtual nutrition service for patients and corporate customers;
C4 – Care Coordination Collaboration Center: A service for hospitals and insurers to facilitate communication with patients, preventive care, and data collection;
Candid Society: Art in the form of self-care and women's products;
CelerOps: A service to authorize and accelerate tasks in accounting, purchasing, human resources, and compliance areas;
Citadoc: A health provider directory that allows patients to obtain and make appointments with health professionals in their community;
CoopSEI: Offers support in the development of database systems for an informative analysis and more effective decision-making processes;
Cuela: A platform to find gourmet Puerto Rican coffee brands that will deliver right to your door;
Dame Cinco: Offers integrated psychosocial services for children, adolescents, and their families;
Don Rifa: A digital online platform to participate in raffles;
Escuela Mayagüezana de Ballet y Artes Escénicas: A provider of educational opportunities in dance and the arts for children, adolescents, adults, and older adults;
Equalponics: Provides a hydroponic station for hydroponic farm administrators to acquire them for employees with motor functional diversity;
GAMA: Provides products and technological services for health and education;
Granos PR: An eco-friendly brand that promotes sustainable practices through education, community relations, and awareness at home;
La Bicicleta: An independent theater company that researches and creates new theater languages around acting;
La Bomba: A restaurant that combines service and entertainment to offer a taste of Ponce;
Löfte Natural Care: An artisan product formula that transforms and improves the skin's texture and appearance;
Mezy by Melolops: Develops high-quality vegan and cruelty-free cosmetics that are friendly for both its users and the environment;
Oh La La: Atravel agency and tour operator services;
Outcome Project: Helps health companies to analyze and report their data and to use statistical data for their operations;
Pintá: Offers nail polish and personal hygiene products to spoil yourself at home;
Quibble: Helps improve the rent property yield through the development of price-adjusted strategies on a case-by-case;
Teatro Público: A company that seeks to strengthen local theater through community innovation and development;
Terra Nostra: Manufactures refrigerated products to facilitate the meal prep process using freshly harvested materials from local farms;
terraFirma: Develops and provides digital solutions to accelerate mitigation efforts, risk prevention, and resource protection; and,
TerraNova Urbana: A multifaceted group that promotes practices and services aligned with environmental conservation and food autonomy.
Participating businesses will compete for three main prizes that are offered by Grupo Guayacán for $25,000, $15,000, and $10,000, and special prizes within various categories which this year add up to more than $220,000 in seed capital from a group of sponsors.
The prizes will be announced in Grupo Guayacan's end-of-year event in December.