Gutiérrez backs P.R.'s last-ditch appeal for help in D.C.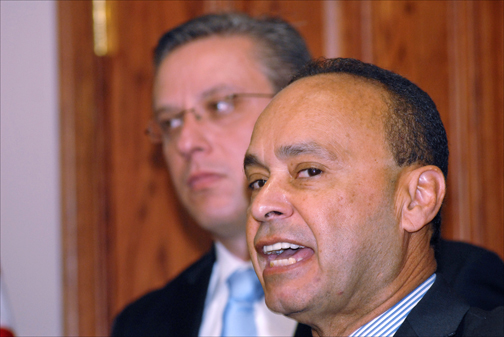 WASHINGTON — Vowing he'd refuse to support legislation "that does not respond to the needs of the people of Puerto Rico," Rep. Luis Gutiérrez (D-Ill.) promised Tuesday he'd do everything in his power to help the island overcome its fiscal nightmare.
Gutiérrez made his comments during a morning press conference with Puerto Rico Gov. Alejandro García-Padilla at his side. The two men, taking on an air of desperation, urged the Republican-controlled Congress to approve emergency bankruptcy measures for Puerto Rico as part of an omnibus spending bill before adjourning for 2015.
"I can't go back for Christmas and look at my mom and her friends and neighbors, and not have stood up when this omnibus bill came up," said Gutiérrez, who is of Puerto Rican descent. "I am not going to vote for a bill that does not guarantee there will be schoolteachers in Puerto Rico, and a nurse and physician when a child is ill. If there are criminals on the street, I want to know there'll be police officers making sure kids are safe."
The press conference took place at the Washington offices of the Puerto Rico Federal Affairs Administration and included 11 other island leaders — among them Jaime Perelló, speaker of the Puerto Rico House of Representatives; Urayoan Walker, president of the University of Puerto Rico; Puerto Rico Industrial Development Company Executive Director Antonio Medina and the mayors of Caguas, Ceiba and Utuado.
"We cannot put Wall Street venture capitalists ahead of the children, the mothers and the workers of Puerto Rico," he told a dozen or so journalists. "I don't want people to have to leave that island. My mom and dad left in 1952 because they didn't have the educational background in order to survive. They were poor and uneducated. But today, people who are born there reach the age of 65 and leave. We have to change that."
Also Wednesday, Republicans led by Sen. Orrin Hatch (R-Utah), chairman of the Senate Finance Committee, blocked efforts by their Democratic colleagues to unanimously approve a Puerto Rico bankruptcy bill. But the inclusion of Puerto Rico in the omnibus is a "long shot," according to The Hill, which reported that "appropriators and leaders in both parties have spent the last several days haggling over a host of contentious policy riders, and Puerto Rico has not been identified as a topic on the table."
Later in the day, Hatch filed the "Puerto Rico Assistance Act of 2015," while Rep. Sean Duffy, a Republican from Wisconsin, who submitted the "Puerto Rico Financial Stability and Debt Restructuring Choice Act," which proposes giving Puerto Rico the same ability to restructure debt as the states.
Gutiérrez, a former member of the Chicago City Council who was first elected to Congress in 1993, said he warned then-President Bill Clinton that same year that he'd oppose the elimination of Section 936, which gave U.S. manufacturers tax breaks for locating in Puerto Rico — and "you know what, it got put back in the budget. That's the kind of spirit we need in Congress now."
Yet three years later, lawmakers began phasing out Section 936 — a decision he said ultimately sparked a recession in which Puerto Rico still finds itself entangled.
The governor agreed, noting "when Congress eliminated tax incentives for the island, hundreds of thousands of jobs left not to the U.S. but to Singapore, Ireland and elsewhere. That phase-out ended in 2006, and not by coincidence, we got into recession in 2006, and have been in it ever since."
García-Padilla, calling the island's current $73 billion deficit "the biggest fiscal crisis in our history," said Puerto Rican banks, labor unions and universities all agree now that the island must get emergency Chapter 9 bankruptcy relief or a humanitarian disaster will ensue.
"Puerto Rico is out of cash, and we've been taking emergency measures to avoid a government shutdown," he warned.
These measures, he said, include "not paying tax refunds, funding working capital needs by selling assets of the workmen's compensation fund; suspending set-aside money for the payment of general obligation funds, but these measures are unsustainable. They are causing massive out-migration and shrinking our tax base."
The U.S. Census Bureau's latest projections indicate that Puerto Rico's population, which stood at close to four million in 2006, has dropped to 3.6 million and will fall to three million by 2050 if current economic and demographic trends continue.
"Puerto Rico needs a lasting solution that breaks this downward spiral," said the governor. "We haven't been offered a bailout, and we're not asking for one. We are asking for the tools to do the job."