Triple-S Health enhances mobile app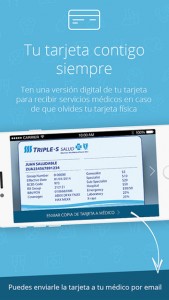 The latest enhancement to the Triple-S Health mobile app gives users a more expansive overview of their plan usage.
Through this new feature, users can access information on all the health services received by the plan's dependents over the course of the last two years, such as pharmacy, doctors, hospitals, dentists and laboratories.
"In this way, you can see if it is time for your preventive medical tests or check when you saw your doctor the last time, " Triple-S Health said in a notification to its clients.
The mobile app, which the company introduced earlier this year in January, is the first available on the island that enables users to generate a certificate of coverage and access a digital version of their health plan ID card, a very convenient feature in the event one forgets one's card at home.
"By developing this mobile app we seek to facilitate our members' access to information," Pablo Almodóvar-Scalley, president of Triple-S Health, said at the time of the app launch.
The recent upgrade organizes all information by date and health care provider and allows users to see the total cost of services received. This includes the amounts that Triple-S paid as well as co-payments and co-insurance.
It is available to all people covered by Triple-S Health but not those who are covered by Triple-S Advantage (Medicare Advantage) and the government's health insurance program.
Although everyone with Triple-S Health coverage may download the application, only the main policyholder will have access to digital cards, history of services and coverage information. To use the application, the main policyholder must register on the company's web page. Available for both iPhone and Android.