U.S. Virgin Islands tourism officials optimistic for '14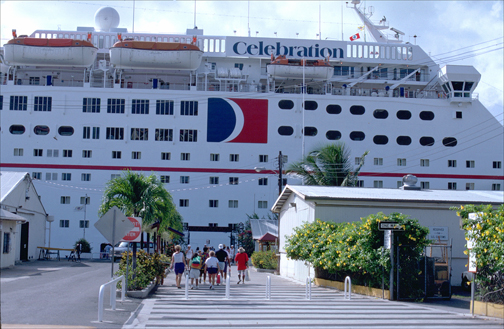 Officials in the U.S. Virgin Islands expect 2017, which will mark 100 years since the United States bought the territory from Denmark, to be a banner year for tourism.
But meanwhile, the numbers look mixed at best.
Air visitor arrivals to the USVI for the first 10 months of 2013 came to 579,613 — down 5.5 percent from the 613,647 passengers who flew into the territory's two major airports during the first 10 months of 2012. The statistics were even worse for St. Croix, where arrivals fell by 17.8 percent, from 131,573 to 108,185, over that same time period.
The cruise business didn't fare much better. An estimated 2.0 million passengers arrived aboard cruise ships during the 2011-12 season, according to the USVI Department of Tourism. Of these, 1.8 million disembarked and visited the territory.
However, total direct expenditures in the USVI by passengers and crewmembers dropped by 12 percent from $384.4 million in 2008-09 to $339.8 million in 2011-12. Passengers spent an average $146.70 while crewmembers spent an average $138.30. Together, the industry generates 3,375 jobs in the Virgin Islands.
"The 13 percent decline in passenger expenditures was the net result of the 14 percent increase in passenger visits, which was more than offset by the 24 percent decrease in average passenger expenditures," said a study by the Florida Caribbean Cruise Association. It noted that the percentage of passengers making onshore purchases fell from 2008-09 to 2011-12 as follows: shore excursions (51 percent to 46 percent); watches and jewelry (39 percent to 34 percent); clothing (54 percent to 48 percent) and local crafts (36 percent to 34 percent).
The situation for crew expenditures was similar, though the study says that the 8 percent decline in total crew expenditures was driven primarily by an 80 percent decline in the weighted average crew expenditure for jewelry. "Relative to the 2008-09 cruise year, a smaller percentage of crew purchased jewelry during the 2011-12 cruise year, and when they did, they spent much less," it said.
Even so, USVI Tourism Commissioner Beverly Nicholson-Doty remains optimistic that 2014 will bring good news.
"It appears that in the St. Thomas-St. John district, the winter season is coming in strong. St. Croix is still not as strong as we would like it to be, but the territory overall is looking good based on year-to-year comparisons," she told the Virgin Islands Daily News. Yet the tourism commissioner added that over the course of the last five years, consumers have tended to shy away from being "collectors of things" and more toward being "collectors of experiences" — which would support merchant observations that tourists are coming off boats and planes with less money to spend on duty free goods.
Joseph Boschulte, president and CEO of the government-owned West Indian Co. (WICO), said he's expecting to see a 7.8 percent increase in cruise ship calls to the USVI this season. He told the newspaper that between October 2013 and September 2014, WICO anticipates 423 ships will call at its dock in St. Thomas, bringing around 1.3 million passengers. In addition, four new ships will be in circulation: the Royal Princess, the MSC Divinia, the Carnival Conquest and the Norwegian Breakaway.
Yet he warned that the USVI is losing territory as the Caribbean in general sees its share of the global cruise market shrink.
"From my discussions with their representatives, it is highly unlikely that any of those cruise lines that used to, but no longer, include the U.S. Virgin Islands on their itineraries will be returning any time soon if we maintain the status quo," Boschulte said.
That's why WICO, whose dock can now accommodate three megaships, plans to build a second dock for $50 million to $60 million to reduce overcrowding in the harbor.
Boschulte told the Daily News that in addition to the three berths along the WICO dock, a ship can berth in the inner harbor and one in the outer harbor, and the V.I. Port Authority can take two ships at Crown Bay.
"But there are times when the Port of Charlotte Amalie also is unable to find space for the ships, so they go elsewhere," he said. To keep the ships and revenues coming into the territory, WICO plans to build a second dock, a 1,334-foot finger pier on the western side of Yacht Haven Grande that will accommodate two cruise ships. Partnering with cruise lines rather than using taxpayer dollars will fund the project.
Meanwhile, the USVI's newest attraction could be a water adventure park on St. Croix. In November, the territory's governor, John de Jongh, hired Baker Berrios Architects to prepare an economic feasibility study on the project, which was first proposed in a report by the Virgin Islands Port Authority. At least four companies have submitted bids for the project.
"There is no doubt that a water-adventure park will be an attractive amenity and one more benefit that we can use in marketing all that St. Croix has to offer," Nicholson-Doty said. "It will provide an economic injection with the construction activity and ongoing jobs that will benefit our diversification."
On St. John — smallest of the three islands that comprise the U.S. Virgin Islands — Starwood Hotels & Resorts announced a $35 million project to renovate the Westin St. John Resort & Villa. In addition, Starwood will convert 79 guestrooms into 54 luxury vacation ownership villas under the new Coral Vista Villas brand. Upon completion, a total of 200 villas will grace the resort's 47 acres.
Also on St. John, Caneel Bay Resort has been rebranded as an independent property. The 170-acre resort, founded by philanthropist Laurance Rockefeller 53 years ago, boasts seven beaches within the Virgin Islands National Park.