FEMA: 6 mo.'s after María: Progress made in P.R., work continues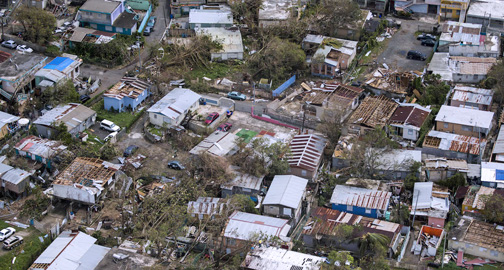 Six months after Hurricane María devastated Puerto Rico, power and water have been restored in most communities, millions of cubic yards of debris have been removed, hospitals and other government services are open and bridges are being replaced, the Federal Emergency Management Agency said.
"Challenges remain, but the joint efforts of FEMA's local, federal, voluntary and private sector recovery partners continue in earnest," it added.
The response
Local first responders, the government of Puerto Rico, FEMA, the Department of Defense, the U.S. Coast Guard, U.S. Department of Health and Human Services, U.S. Army Corps of Engineers and many other agencies and volunteer groups spent months delivering water, food, first aid and other life-saving and life-sustaining supplies to fellow Americans across the island.
Thousands of federal employees came to Puerto Rico to help address one of the most logistically challenging natural disasters in modern U.S. history.
At its peak, more than 19,000 federal personnel and military service members from 80 federal agencies deployed to the island.
To supplement staffing for the historic response, FEMA activated its surge capacity force. More than 640 employees from other federal agencies temporarily left their jobs in the U.S. to support the Puerto Rico response.
Showing their commitment to service, FEMA's response effort in Puerto Rico became the largest and longest commodity delivery mission in the agency's history. Commodities were delivered by air, off-road vehicles and even on foot.
More than 63 million meals and snacks were provided to Puerto Rico. The number represents nearly half of the 138 million total meals provided during the historic 2017 hurricane season.
More than 72 million liters of bottled water and nearly 17 million gallons of potable water were distributed.
More than 4,500 flights flown to date, making it the longest and largest sustained domestic air mission of food and water in U.S. history.
Countless additional commodities and comfort were also provided through non-profit organizations, private companies, neighbors and volunteers from across the country.
In one of the largest medical response missions ever, more than 4,700 medical personnel deployed and cared for more than 38,000 survivors.
Addressing the needs of Puerto Rico and its 78 municipalities, more than 150 staff from 15 federal agencies worked side by side with local officials on the ground – FEMA's largest ever intergovernmental affairs mission. Additionally, all 78 mayors were provided satellite phones to communicate with the Puerto Rico Emergency Management Agency and FEMA. This had never been done before.
Less than a month after María hit, more than 60 non-governmental organizations and government partners were on the ground assisting disaster survivors.
USACE has installed more than 1,843 generators, making it the largest disaster generator mission in U.S. history. More than 4,200 power line workers are in the field, repairing transmission and distribution lines to restore power to the island. Less than 10 percent of the island remains without power.
All 68 hospitals are open. FEMA is working closely with the Puerto Rico Department of Health and HHS to provide temporary facilities while any remaining damaged health clinics are repaired and rebuilt.
To date, FEMA has hired more than 1,500 Puerto Rico residents, the majority of whom are disaster survivors themselves.
Federal assistance to survivors and municipalities
More than 1 million Puerto Rico households have registered for FEMA's Individual and Households Program.
FEMA has approved more than $1.15 billion in grants for individuals and families, including nearly $634 million for housing repairs and nearly $517 million for other disaster-related needs, and more is coming.
The U.S. Small Business Administration, the provider of the largest source of federal rebuilding funds, has approved nearly $1.2 billion in low-interest disaster loans to more than 30,000 homeowners, renters and business owners to replace personal property and repair or rebuild homes and businesses.
Many survivors have additional needs beyond what can be provided by FEMA programs. FEMA works closely with the government of Puerto Rico, other federal agencies and faith-based and voluntary organization partners to help match survivors with other sources of assistance.
More than 60 disaster recovery centers remain open around the island and have welcomed more than 483,000 visitors.
Since the early days following María, FEMA's disaster survivor assistance teams have gone directly to where the survivors are in the most devastated neighborhoods and communities. They've made contact with more than 258,000 survivors and visited more than 241,000 homes, providing one-on-one outreach.
FEMA has obligated more than $1.3 billion in funding to municipalities and eligible private nonprofit organizations for debris removal and necessary emergency protective measures.
Housing
More than 128,000 homeowners and renters have been approved for FEMA assistance to rent a temporary place to live, and more than 6,900 families have received help through FEMA's Transitional Sheltering Assistance program. More than 3,500 of those families are still being housed temporarily in hotels in Puerto Rico and across 37 states.
In the third largest Operation Blue Roof program, USACE has installed nearly 60,000 temporary roofs.
The government of Puerto Rico, FEMA and its partners are providing several housing options for disaster survivors.
To date, 22 non-governmental organizations have repaired 238 homes through FEMA's Voluntary Agencies Leading and Organizing Repair program, also known as VALOR.
More than 380 homes have been repaired under the "Tu Hogar Renace" ("Your House Reborn") program. The program, which is funded by FEMA, is managed by the Puerto Rico Department of Housing.
Looking ahead
While much has been accomplished, there remains much to be done. FEMA, the government of Puerto Rico and a number of local, federal, voluntary agencies and private sector partners are addressing the long-term recovery needs of the island with a sector-based approach.
The mission is to help residents of Puerto Rico and their communities recover and build a stronger, more resilient infrastructure. The sector-based approach directs targeted expertise on housing, energy, water, transportation, health and social services, public buildings, communications, economics, community planning and capacity building, and natural and cultural resources.
Deadline extended
At the request of Puerto Rico Gov. Ricardo Rosselló Nevares, the deadline to register with FEMA and submit SBA disaster loan applications has been extended to June 18. The extension gives disaster survivors another 90 days to apply for FEMA assistance.