Merck's Latam president backs HPV fight in Puerto Rico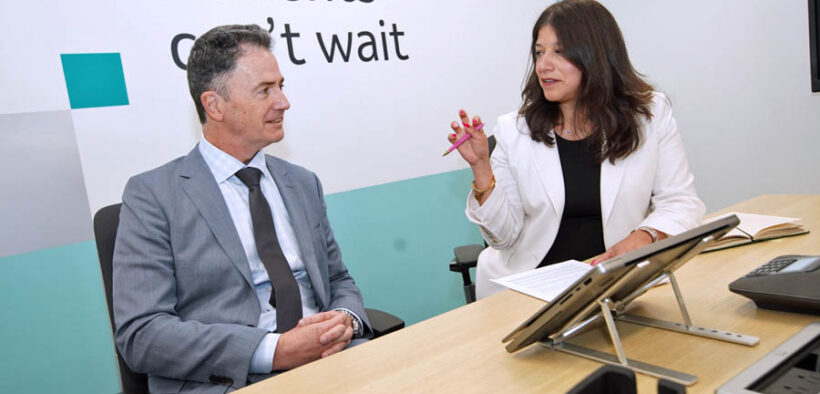 Merck & Co. Latin America President and Senior Vice President Sarah Aiosa visited the island this week, meeting with public and private sector officials. The visit aimed to reaffirm ties with the local Merck team and strengthen relationships with "current and new allies," expanding access to more patients mainly for vaccines and oncology.
Aiosa met with Gov. Pedro Pierluisi and Health Secretary Carlos Mellado on Tuesday and discussed "their shared mission" of improving public health for Puerto Ricans and to go over a pledge signed last year while sharing the progress in a vaccination program that seeks to eradicate cancer attributed to the human papillomavirus (HPV).
"A year ago, we signed a pledge for the program to eliminate the cancer attributed to HPV and a year later we have made a lot of progress in the coverage for patients…. We know that we have more work to do," Aiosa said.
The executive arrived on the island on Monday and was slated to return to the mainland U.S. on Wednesday.
She also met with officials at the Comprehensive Cancer Center, the American Cancer Society and with a team of workers from Voces Puerto Rico.
"We are consistent in establishing collaborative links with the public, private and civil society sectors with the clear purpose of building bridges through collaboration and helping to close gaps to expand access to innovative and quality health care," she said.
She further explained that the pledge signed a year ago focused on the collaboration between public and private sector to improve vaccination efforts and to have the necessary funding that is also guaranteed by Medicaid.
"The effort aims to help with vaccination for adults because we know that children are covered but adults were not," she said. "We do have the tool for the prevention against HPV related cancer and we know that here in Puerto Rico there are higher cases, even higher than in the U.S."
Merck Puerto Rico Public Policy Director Juan Negrón said that a year ago the pledge was signed "so Puerto Rico is headed in the right direction of being free of HPV related cancer."
"And, we were invited by the government of Puerto Rico together with groups like Voces, the American Cancer Society and the Comprehensive Cancer Center where we joined as a guild to help the government in its public policy to lead Puerto Rico to be an island free of HPV related cancer," Negrón said. "The children are covered until the age of 18, and one of the commitments is that the adult population that forms part of the Medicaid system or the government health insurance, the Vital Plan, who didn't have vaccination coverage because the federal government doesn't award that coverage receive coverage. So, the governor and his administration were able to obtain some funding from the coffers that arrive for the health system in Puerto Rico, and in January the governor announced that the Vital Plan is now covering the vaccine for children and adults as well."
Negrón added that the second commitment that the governor made is that, in December 2022, the Health Department issued an administrative order that allows citizens to go to pharmacies and be able to get vaccinated without the need of obtaining a doctor's order.
"If we talk about vaccination, we are talking about prevention," Negrón said. "So, we can't see this as a treatment but as a way for people to prevent cancer."
Aiosa said that with this program, Puerto Rico can become "the third country in the world" that has the opportunity to one day become an island free of cancer associated with HPV.
"For us, it's an honor to work hand in hand with these collaborators," Aiosa said.
Before the pledge, the population over 18-years-old were not covered to be able receive the vaccination, "other than those that have private insurance."
Clinical studies
Meanwhile, over the past two years, Merck has grown its clinical studies from 14 protocols to 26 to address specific conditions and treatments. Currently, studies are being conducted in the areas of oncology (breast, renal and bladder cancer) and non-oncology (heart failure, dialysis, vaccines for pneumococcus, Nexplanon, HIV and COVID vaccines). During this period, investment in clinical studies have doubled from $1.7 million to $3.4 million and are expected to continue. 
"As a company, we aspire to transform health care in Latin America so that people can live a better life," Aiosa stressed.
It should be noted that, in 2021, Merck Puerto Rico Global Clinical Trial Operations (GCTO) occupied the 10th position in relation to the other pharmaceuticals, and to date it occupies third place.
With regard to the closing of the Merck manufacturing plant in Las Piedras, Aiosa said that the plant will remain open until the end of 2025.
"Our investment here in the offices in Guaynabo, the commercial offices, continues," she said. "We have many workers here, and a legacy of almost 60 years. And we are now increasing our investments in the part of clinical studies and that is very important."