Metaverse event expands high-tech opportunities for Puerto Rico, Orlando entrepreneurs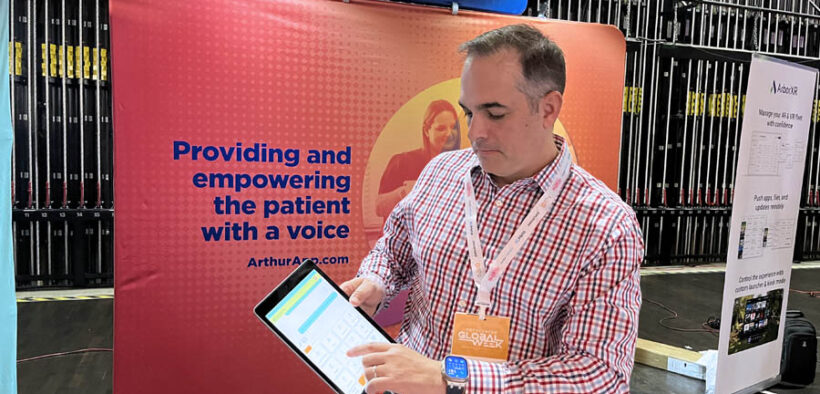 Orlando, Fla. — Many big opportunities for Puerto Rico businesses are on the way in the metaverse industry.
Last week, this city hosted, for the first time, the "MetaCenter Global Week," a three-day event presenting the multiple benefits that this town offers to companies and entrepreneurs coming from other states, including Puerto Rico.
Patrick de la Roza, CEO of the Arthur App, was one of many executives representing companies at the event. He said he wants to reach the Hispanic audience to introduce this dedicated software that helps communicate with patients in hospitals.
"We're now in Orlando Health; we're going to be expanding to hospitals around the country, and hopefully around the world, including Puerto Rico," said de la Roza.
The Arthur App is a software designed for hospital patients who can't speak because they are either intubated or had surgery.
During the convention, pioneers in metaverse technology, virtual and augmented reality experts and leaders from different sectors discussed how the latest technology will shape the future of businesses, impacting customers and sales strategies.
Tim Giuliani, CEO of Orlando Economic Partnership, described Orlando as the top destination for many reasons: Orlando's combination of specialized and highly skilled talent, investment, industry, education and creativity in areas such as artificial intelligence, VR and AR, Internet of Things technology, gaming, 3D, and modeling and simulation makes the region ground zero for Metaverse development.
Meanwhile, David Adelson, CEO of Innovate Orlando and one of the event's leaders, expressed satisfaction over the results of the gathering, which he said took many months of preparation.
"I feel tired, but I feel great. You know, it's so good to see it all come to fruition. We've been several months – almost six months – in planning to launch Meta Center Global Week, which typically is a project that takes well over a year. And we've been really accelerated and worked hard and put together a show that we know people are going to be proud of," said Adelson.
An entrepreneur like Hassan Seguias, who was born in Venezuela and is CEO of Xureal in Orlando, was a panelist at "Pushing Boundaries XR for Performances and Entertainment Unveiled by Industry Titans," said it's important to take advantage of these new tools of this new era.
"These technologies are so important for the entertainment, workforce and how we will communicate," he said.
"The metaverse and all virtual and augmented reality technologies are the evolution of the internet; it is the next step of the internet. Then, when you go to Walmart or Amazon, instead of seeing a page in 2D, you will see a page in 3D, where you will enter to make your purchases as if you were in a real space, and not only that, you can interact with other avatars, people in the store; you can ask them a question. It's going to be a different experience," he said.
As for businesses looking to expand, the expert advises them to consider bringing this technology into their plans.
"Generation Z, and after this generation, they are people who spend the day playing video games, in immersive experiences, and they are going to expect to have it at work or that their favorite brands have this type of technology," he said, adding that this technology will become more prominent in Central and South America over the next three years.
Rex Cartagena, the CTO of Xureal, has lived in Puerto Rico, California and Florida, and sees great potential in this sector in Orlando.
"Orlando has all the necessary ingredients; rent is not as expensive as in other places. There are big companies like Disney, there are many universities that provide talent, and the city is working, providing incentives, helping many companies," he said.
Three years ago, he tried to open a technology company in Puerto Rico, but it wasn't the right time, he said.
Virtual world = long-term opportunities
Meanwhile, Luis M. Martínez, spokesperson for the Orlando mayor's office, said that the city is attracting more Hispanic businesses from Puerto Rico and other states.
"Although this virtual world represents a novel concept for many, it provides a range of long-term opportunities to Hispanic and Puerto Rican technology companies expanding to Central Florida that seek to maximize the use of technology to provide innovative services to their clientele," he said.
"All the different components of the metaverse, other than cryptocurrencies, we have here in Orlando, because we have the talent and the companies to become the Silicon Valley of the metaverse," said Orlando Mayor Buddy Dyer.
John Cunningham, president of the Central Florida Chapter of the VR Association, explained the advantages offered to this big region for companies and even people looking for well-paid jobs in coding, software development, gaming and more.
"My advice to everyone is to learn game engine technology like Unity and Unreal because this is the technology that we're building the next generation of the internet on, and you can learn it anywhere; you can learn that at home. We have a lot of people moving here from Puerto Rico, Brazil and Argentina," he added.
Meanwhile, Jennifer Marcial-Ocasio, communications director of Orlando Economic Partnership, emphasized the magnitude of the metaverse for entrepreneurs from Puerto Rico and other countries.
"Orlando is like that invisible bridge between Orlando and Puerto Rico; like many of the diaspora who had already been here for so many years and started their business here and now want to take their business to the island, and that synergy and like a symbiotic relationship because we are, just two and a half hours by plane," she said.
Orlando Economic Partnership is leading the Digital Twin project, a 3D technological map of the Orlando region that covers 800 square miles including Orange, Seminole and Osceola counties. It represents the first large regional digital twin in use by an economic development organization.