Microsoft retail stores to mark arrival of Surface Pro 3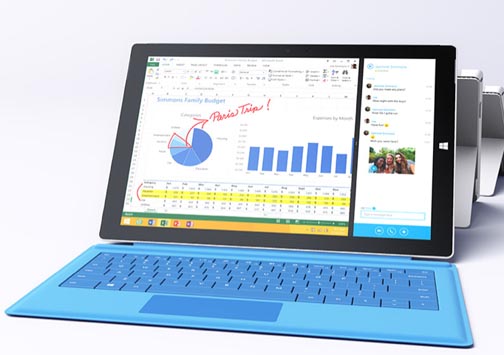 Microsoft Corp. announced Wednesday details for in-store events and experiences in the more than 90 Microsoft retail stores in the U.S. mainland, Canada and Puerto Rico, to celebrate the launch of the tablet they say "can replace your laptop," the Surface Pro 3.
Through launch day on June 20 and beyond, Microsoft Stores are offering the best way to experience, pre-order and celebrate the arrival of the Surface Pro 3.
"Everyone is encouraged to come in and check out the excitement for themselves and get expert tips and advice on Surface Pro 3 directly from the company that created it," Microsoft said in a statement, noting that customers can pre-order the tablet online.
"Customers can go in store or online at MicrosoftStore.com now to pre-order Surface Pro 3, and can visit any Microsoft retail store to be among the first to have a hands-on experience with Surface Pro 3 and the latest accessories — including a Microsoft Store exclusive red type cover — before they're available to the public on June 20," the company said.
"Each store will have multiple devices to try along with a team of store experts dedicated to delivering the best choice, quality and service with every technology purchase," it noted.
To mark the arrival of the Surface Pro 3, all Microsoft retail stores will host launch day activities starting when stores open on launch day.