News is my Business marks 1st anniversary today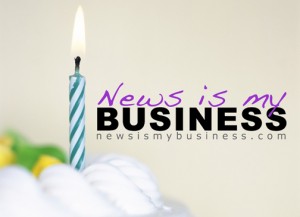 News is my Business, an idea born out of a desire by this career journalist to continue doing what I love to do — reporting about everything related to Puerto Rico's business community — is turning a year old today.
As with many other digital news organizations that have launched operations in the last year, developing this website has been a time-consuming labor of love and dedication. The support received has been overwhelming and all encompassing, and has given those of us involved in this effort the energy and will to continue pushing forward every day.
In the past 12 months, News is my Business has given me the opportunity to make the transition from being a "traditional" newspaper reporter to embracing an all-digital web-based format that has blown the doors open to a world of opportunities and advantages never before experienced.
For one, the digital platform provides a speed with which to inform that an all-paper format cannot offer, unless it has a website to complement its print editions. Secondly, a digital news website facilitates immediate interaction with and reactions from readers in Puerto Rico and all over the globe.
News is my Business is followed mostly by readers in Puerto Rico and the U.S. mainland, but has visitors from nearby countries such as the Dominican Republic and from as far off as Qatar and Indonesia. In the last year, we have racked up close to 150,000 visits and 'pageviews,' and have averaged about 9,000 unique monthly visitors in the last six months. Please accept our sincere gratitude for your support. You are the reason we are here and why we have made it our mission to deliver the latest and most relevant business news in the most straightforward manner.
Against all odds
One of the greatest challenges that emerging digital news organizations face in Puerto Rico is finding ways to make a living doing what we love to do in this new format. Most, if not all of us, are spreading ourselves thin by taking on other jobs to generate income with which to pay our bills, as we put in the hours to update our online content nearly every day.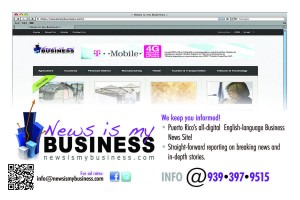 Those who are pioneering the effort, including our colleagues at Sin Comillas, NotiCel and Mi Puerto Rico Verde, to name just a few, are pushing against formidable odds to carve a niche for the digital news category that can only succeed if advertising firms and clients learn to see the merit in diversity and open their pockets to new possibilities.
So far, an important group of companies has shown its faith in up-and-coming digital media, and have taken a chance on us. News is my Business is whole-heartedly grateful to Doral Bank, Ford Motor Co., T-Mobile, AT&T de Puerto Rico, BBVA, Chartis, Motorola, the Puerto Rico Convention Bureau and the Puerto Rico Hotel and Tourism Association, for their trailblazing bravado and for offering their financial support through advertising in the last year.
In the months and years ahead, we look forward to generating enough advertising revenue to be able to expand our operation and contribute to the island's economy through job creation — we want to make enough to pay ourselves and hire more reporters, more photographers and more staff to continue expanding our content and our product offering.
Thank you!
That said, I would be remiss if I failed to thank my closest collaborators in this effort: Mauricio Pascual, whose photographic excellence and journalistic eye makes our news stories stronger and more attractive to read, and our web designer, whose behind-the-scenes talent is responsible for the look of our website, its clutter-free navigation and its accessibility on mobile devices. Guys, THANK YOU!
Along the way, we have also had the benefit of having collaborators — Melissa Zayas, Lorraine Blasor and Larry Luxner — as well as guest columnists — Raúl Burgos, José Sifontes, and Gigi de Mier — enrich our content with their sharp reporting and diverse points of view on a variety of topics. To them goes another round of THANK YOU's.
Finally, but no less importantly, I want to express our appreciation to our friends in public relations, who have — without question — included us in their efforts and have put in a good word for us with their clients and media-buying colleagues. That kind of support is priceless!
A first anniversary should be celebrated with a gift of paper, but in this case, a comment below, a mention on Twitter, or a Facebook message will do! To all of you, our heartfelt appreciation for 365 days of support! 🙂