La Oficina, new shared office space, opens in San Juan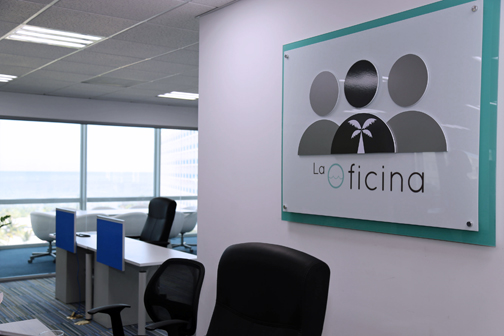 La Oficina, a new, shared executive office space, opened its doors in the Caribe Plaza Office Building, across the street from the Caribe Hilton hotel, kicking off the project with an open house last week.
The modern space boasts spectacular ocean views and offers tenants a wide array of services, including receptionist, conference room, high-speed Internet, direct phone lines with messaging features, in addition to a lounge and coffee oasis.
"We're very proud to introduce such an innovative concept in our market. Our idea is to offer a modern and innovative alternative to our clients with all the technology and convenience of a professional office, in a space where they can indulge in the luxury of our incomparable view just steps from the beach," said Christie Dubón, one of the founding members of the new concept.
"As we like to say, La Oficina is strategically located at the intersection between business and pleasure," she said.
La Oficina offers a variety of alternatives including private office spaces, workstations in the shared creative space, and virtual office services for customers who work remotely. The space is decorated with modern murals designed and painted by urban artist Sofía Maldonado.
In addition to the beach views, La Oficina also offers a convenient location near Paseo Caribe, a few steps away from luxury apartments, multiple restaurants and commercial spaces. The nearby hotels also provide convenient alternatives for meetings, seminars or business conferences.
Another one of the perks of working from La Oficina are consulting services for Act 20/22 businesses in Puerto Rico, said Raúl Vidal, another founding member of the project.
"This unique community has a wide array of needs, from compliance with governmental regulations, head hunting, transportation, commercial and residential real estate assistance, even finding the right schools and doctors for their families," he said.
"We facilitate these needs both internally and through our service provider network. The goal is to make life easier for our clients, giving them the solutions they need so they can focus on their work. It's simple: if their business grows, Puerto Rico grows," he explained.