Old San Juan cruise ship harbor to get $7M dredge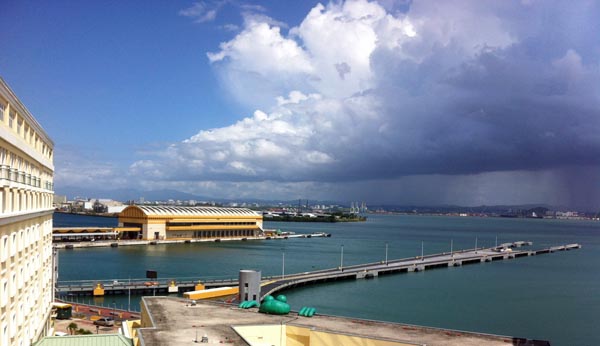 Old San Juan's cruise ship harbor is up for a significant dredge and upgrade this summer, when the Puerto Rico Ports Authority plans to invest some $7 million to get the area ready for bigger vessels, Executive Director Víctor Suárez said during a recent interview.
Plans specifically call for preparing the entrance into Pier 3 to accommodate cruise ships carrying 5,000 or more passengers, he said.
"We're expecting important announcements from several cruise lines this summer, for journeys in 2014," he said, noting new activity would be in addition to Disney Cruise Line's announcement earlier this month.
On Sept. 20 and 27 and Oct. 4 and 11, 2014, the impressive Disney Magic — one of four comprising the Disney Cruise Line fleet — will sail out of the San Juan homeport, marking what could be the beginning of a longer-term relationship with Puerto Rico.
Royal Caribbean is expected to follow suit with a similar announcement that would favorably position Puerto Rico to again find a place among the Caribbean's most active homeports, which represents significant economic activity for the destination.
Bahía Urbana opening in May
Another area that is poised to generate significant activity in the Old San Juan area is Bahía Urbana, a recreational area for locals and visitors alike. The first phase of the ambitious $525 million project encompassing Piers 7 and 8 will open in May, Súarez said.
"This area is expected to generate attractions for our tourists, especially those getting off cruise ships," he said.
Late last year, the Bahía Urbana operation and management contract was granted to SMG Latin America, which vowed to offer "attractions targeted to revitalize and enhance the urban life for people in and around our beautiful San Juan Bay, surrounded by green spaces that will create new entertainment experiences for the enjoyment of all our visitors," said Jochi Dávila, SMG Latin America business development vice president, who worked sales and spearheaded the efforts to win the management contract.
"This project is the transformation of fully damaged and abandoned industrial areas into new clean spaces designed to create a unique experience: the perfect urban mix of beach, city and future," explained Dávila.
Attractions includes cultural, sports and artistic events. Among the attractions scheduled to inaugurate Bahía Urbana is Café 8, an outdoor restaurant overlooking the Bay where visitors can enjoy light snacks and dishes such as salads, sandwiches, seafood as well as grilled options, all with the touch of the Puerto Rican flavor.
Other attractions are Urban Beach, a water park, a state of the art trapeze school, water taxis, sea planes, mooring for boats and yachts, a central urban market area, and an open air amphitheater. Bahía Urbana will open daily to the public from 6 a.m. to 11 p.m., including holidays.
Some 200 events will be planned annually, most of which will be free for visitors, operators said.
Revitalizing dry dock
During the interview, Suárez confirmed the Ports Authority's plans to revive the government's dry dock further down the road, on Pier 16, to establish a ship repair operation at the 600-foot long by 100-foot wide facility.
"Setting up this type of operation would create 150 jobs and would keep that kind of business here, that we're losing to other islands," said Suárez, adding Ports has already issued a request for proposals to inject private investment into the project. "We've already shown potential investors around the facility so they could see its conditions and be able to submit proposals as to how to repair it."
When operational, the 27-foot deep dry dock would cater mainly to private boat owners, but would also be used to repair the Maritime Transportation Authority's ferries and tugboats, among other vessels, he said.
Maritime cargo area expansion
While activity picks up in Old San Juan, at least two of the major maritime shipping companies serving Puerto Rico will be announcing plans of their own to improve the cargo docks on the opposite side of the bay.
Refraining from offering specifics, Suárez said two of Puerto Rico's shippers will be investing a combined $800 million to expand their facilities and create jobs. The announcement is to be officially made in about a month, he said.
"The expansion is significant and will open the possibility to improve Puerto Rico's infrastructure in a way that we'll be able to export to the Caribbean," he said. "And the jobs that will be created are well-paid positions."
Puerto Rico's maritime carriers are Crowley, SeaStar Lines, Horizon Lines, and Trailer Bridge.