Mall of San Juan opening ushers in era of luxury retail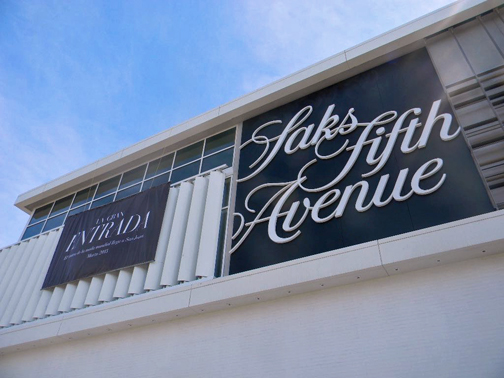 In less than 90 days, Puerto Rico will become the official home to one of the most high-end shopping centers in the Caribbean, with the opening of the Mall of San Juan and its long list of luxury retailers.
Just how many stores are opening at the $475 million mall to be anchored by the first Nordstrom and Saks Fifth Avenue on the island, and who is the lavish lineup catering to? This media outlet spoke to Mall of San Juan General Manager Manuel Vázquez recently to get an update of the sprawling retail complex slated to open March 26.
So far, nearly two-dozen retailers have confirmed they will have a presence at the mall, aside from the aforementioned anchor tenants. The list includes Banana Republic, Chico's, Coach, Gap, Gucci, Louis Vuitton, White House/Black Market, Victoria's Secret, and Claro — all familiar brands to the market.
The rundown also includes several newcomers, namely Boston Proper (women's fashion), Herve Leger (designer women's wear), Jimmy Choo (designer shoes and accessories), Kate Spade (women's clothing, shoes and accessories), Omega (watches), Versace (Italian fashion clothing, jewelry and accessories), Lush Cosmetics, and restaurant Kona Grill.
"We will definitely have something for everyone," Vázquez said, noting that the 650,000 square-foot mall will ultimately have between 100 and 120 tenants. "Our goal is to have 60 percent of the mall be unique to the market, new offerings by retailers who are excited to come to Puerto Rico."
"The mix of stores will be a good representation of the different types of retail overall," he said, without disclosing any other names of future arrivals outside the list already revealed, but confirming that the final setup will include local retailers as well.
"We really have to have that good mix of stores and openings. There is a lot of anticipation, and people will be pleasantly surprised when the entire list is revealed," Vázquez said.
Attracting clientele
One of the most frequently asked questions regarding the Mall of San Juan's extravagant retail list is whether this market — in its current economic state — can sustain it. The answer is yes and no.
"We don't make decisions based on the current ups and downs of the economic cycle. We believe in Puerto Rico, tourism is increasing and our retailers agree on the long-term visibility of the project and have long had an interest in opening here," he said.
"We anticipate a great deal of our sales will come from tourists who are not greatly impacted by the local economy," he added, while keeping details of the strategy to be put in place to attract foot traffic to the mall close to his chest.
"We've been talking to many organizations, but we're not divulging our strategy yet. We want to build a strong partnership with the island," he noted.
One of those partners, this media outlet learned, is the Puerto Rico Tourism Co., which next week will have a second meeting with mall operators to begin brainstorming on potential public relations events that will use the mall as the hook.
Mari Jo Laborde, sales and marketing officer for the Tourism Co. said Monday that the agency has already done some of the legwork, sharing information about the mall's impending arrival during recent events outside Puerto Rico.
"We've been in New York and Chicago, offering a lot of information to the luxury market, referring to the opening of the Vanderbilt Hotel and the Mall of San Juan as points of interest to high-end tourists," she said. "We're also working to spread the word in the cruise ship market, because the Mall of San Juan represents a tremendous shopping opportunity for those visitors as well."
The Mall of San Juan is located across from the Luis Muñoz Marín International Airport, and the Isla Verde hotel strip, a short ride away over the Teodoro Moscoso bridge. It is about 20 minutes away from the Vanderbilt Hotel and cruise ship piers in Old San Juan, and about half an hour from the St. Regis Bahía Beach hotel in Río Grande, via Route 66 to the east.
Laborde said the Tourism Co. has also been setting it sights on the Latin American market, pinning down marketing agreements with airlines Copa and Avianca to create ad campaigns focusing on Puerto Rico's high-end shopping, sprawling golf greens, and pristine beaches.
"That's what Latin American travelers are used to finding in markets like Miami, which they can do here too, and it's closer," she added. "We want to use the Mall of San Juan as one of our strongest tools to appeal to the luxury travel market."
The important thing, she said, is for the agency to help generate clients for the mall, knowing that Puerto Rico may not be able to support it on its own.
"It's going to put us in an excellent position among the other islands in the Caribbean, because none of them have anything like it," Laborde said.