San Patricio Plaza ushers in 6 new, remodeled stores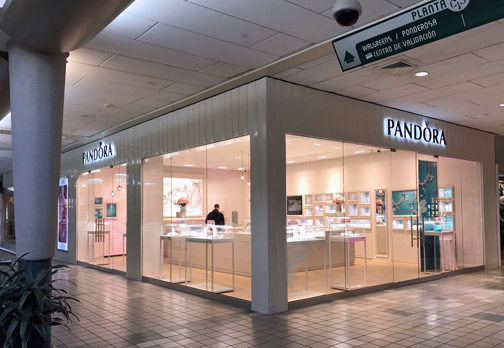 As a preamble to San Patricio Plaza shopping center's plans and new projects for 2017, the mall announced the arrival and remodeling of six stores and establishments.
The rundown includes the recent opening of the Pandora store, located in the space formerly occupied by Italics, which relocated in the corridor at the entrance to Walgreens, next to The Room. The new Pandora store features 1,353 square feet of space and Class A décor, featuring modern details, a cozy atmosphere and lighting to showcase the popular jewelry line.
Meanwhile, Valija, remodeled its existing store at the southwest corridor, by the entrance near Banco Popular. This remodeling brings a more modern and illuminated atmosphere to the 1,232 square-foot ethnic clothing and accessories shop.
The Bookmark bookstore, located at the entrance of the pedestrian bridge in the multi-floor parking lot, added 600 square feet of space to the 2,714 feet of its existing store. This expansion created a new coffee and pastry area.
Over toward Bed Bath and Beyond, the mall is welcoming La Mofonguería, a 300 square-foot kiosk offering a variety of stuffed "mofongo" dishes, and other menu items. In coming days, retailer Roma Plus will open a 2,494 square-foot store catering to plus-sized women and men.
Finally, wireless carrier T-Mobile will open a 1,341 square-foot customer service center across the hall from Marianne, mall executives said.