PenFed donates $50K for veterans' trip; helps boost financial literacy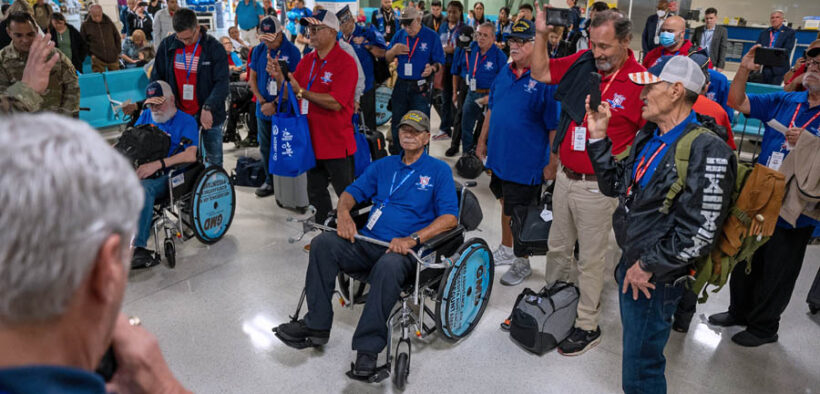 PenFed Credit Union partnered with the Honor Flight Network to offer Puerto Rican veterans an all-expense paid visit to Washington, D.C. Said to be a first-of-its-kind, the flight left San Juan on Wednesday and will return today, accompanied by a welcome home ceremony.
In a news release, James Schenck, president and CEO of PenFed Credit Union, said, "When PenFed learned that vets in Puerto Rico had never enjoyed the opportunity to visit the D.C. monuments and memorials built in their honor, we knew we had to act."
The Honor Flight transported 25 veterans who served in either World War II, the Korean War or the Vietnam War, and visited memorials dedicated to their service, as well as Arlington National Cemetery, while accompanied by guardians and medical personnel for support.
Meredith Rosenbeck, CEO of the Honor Flight Network, thanked PenFed for its generosity, saying, "Honor Flight trips provide veterans with an empowering sense of camaraderie and, in many cases, closure."
The public is invited to join family members and fellow veterans for the homecoming event at Luis Muñoz Marín International Airport in Carolina on Thursday. The vets arrive on Southwest Airlines flight 2517, which is slated to arrive at 12:15 p.m.
The Honor Flight Network was formed in 2005 to honor veterans by organizing trips to Washington, D.C. With more than 130 hubs in the U.S., the network has taken more than 250,000 veterans to the U.S. capital since its inception.
Boosting financial literacy
In other PenFed-related news, the credit union and digital course provider EVERFI – which was acquired by software provider Blackbaud in 2021 – recently hosted a financial literacy event for more than 130 12th-grade students at University Gardens High School in San Juan. 
The interactive learning event followed the students' completion of the "Tu Dinero, Tu Sueño" ("Your Money, Your Dreams") program, a digital financial education curriculum provided by PenFed through its partnership with EVERFI.
"PenFed believes the best way to serve Puerto Rico is to continue to help the next generation realize its financial goals. We remain committed to investing in the development of Puerto Rico's young future leaders," Jamie Gayton, PenFed executive vice president of member operations, said in the event's media release.
PenFed and EVERFI have partnered over the past four years to provide free financial education technology to more than 3,400 public and private K-12 school students in 30 schools across Puerto Rico. The curriculum teaches students financial skills, such as managing savings and checking accounts, building healthy credit, planning major purchases and investing.
The event included a "speed networking" activity where students had small group conversations with PenFed financial center managers and community volunteers, discussing critical skills taught in the EVERFI curriculum. This year's event is the largest PenFed and EVERFI have held in Puerto Rico.
Following the event, PenFed awarded two students a $1,250 scholarship each for their work throughout the "Tu Dinero, Tu Sueño" program.
"I'm incredibly proud of the work we've been able to do in Puerto Rico over the years with the generous support of organizations like PenFed," said Ray Martínez, president and co-founder of EVERFI.
PenFed has been operating in Puerto Rico for over 15 years, with financial centers in San Juan, Hatillo, Ponce and the U.S. Army Garrison Fort Buchanan. Last year, the credit union opened a bilingual service center in Guaynabo.
Established in 1935, Penfed says it serves 2.8 million members worldwide, managing $35.5 billion in assets.