Banco Popular adds 40K new clients in the year since Hurricane María hit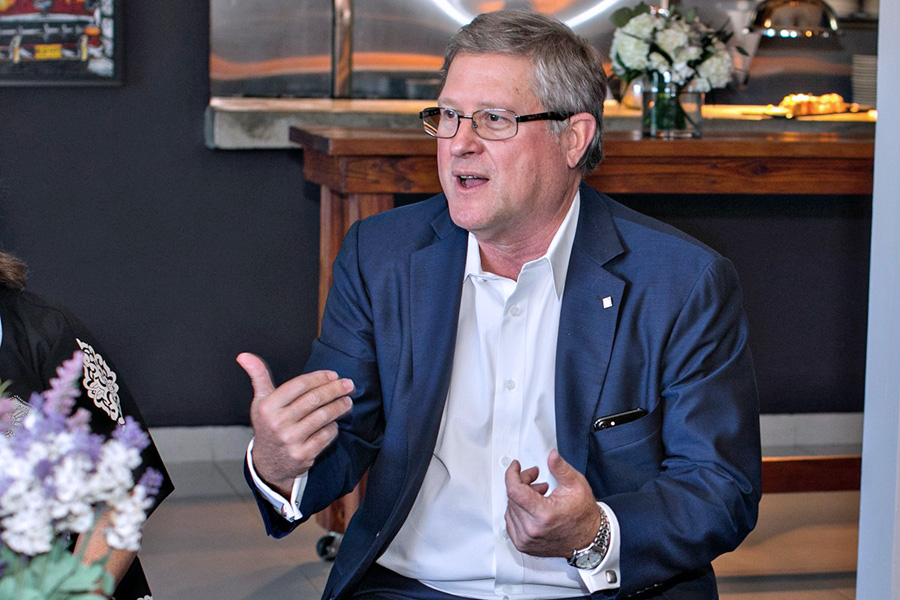 Banco Popular added 40,000 new clients, as other financial institutions opted to close branches after Hurricane María tore through the island last year, Ignacio Álvarez, president of Puerto Rico's largest bank confirmed.
"There are banks that have closed branches. We believe in branches, and we have them in every municipality except for Guánica and Cataño," said Álvarez. "Clients who have seen their branches close have come to us for service."
"Obviously, there has been consolidation and fewer banking entities than before, but much more solid ones now. We're seeing we can all build in our own way and hope that we will do our part in changing Puerto Rico's course."
During a sit-down with members of the press, Álvarez spoke candidly on a number of topics, including Puerto Rico's need to regain the global spotlight and adjust to its new reality, as well as find ways to spur local and foreign investments.
"The problem is that Puerto Rico 'pulled out' of the world 20 years ago, so we need to get out there and sell Puerto Rico, and put ourselves back on the map," he said.
It is up to the government to find a way to create more trust among investors, who the executive said "have money to invest, but aren't confident that the rules of the game won't change overnight once they do."
For example, he mentioned the recent executive order issued that increased the minimum wage for construction workers to $15 an hour.
"While many people think it's correct to increase salaries, there was no discussion, no studies, no transition plan. And suddenly, you learn about it in the newspaper, which doesn't generate trust, because the least that's expected is that these things are revealed beforehand," he said. "Puerto Rico has a track record of doing those kinds of things."
Now, he said, there is great interest in creating the right climate to take advantage of the opportunities ahead. "The best client that you have it the one you already have. However, we have to sit down with them to listen to what they need to be able to invest more in Puerto Rico."
Outside investors, he said, will be drawn to Puerto Rico for several reasons, one being the recently enacted Opportunity Zones program by the U.S. Internal Revenue Service, which includes the island. An Opportunity Zone is an economically-distressed community where new investments, under certain conditions, may be eligible for preferential tax treatment.
According to the IRS, investors can defer tax on any prior gains until the earlier of the date on which an investment is sold or exchanged, or Dec. 31, 2026, so long as the gain is reinvested in a Qualified Opportunity Fund. Second, if the investor holds the investment in the Opportunity Fund for at least 10 years, they would be eligible for an increase in basis equal to the fair market value of the investment on the date that the investment is sold or exchanged
"Ninety-four percent of Puerto Rico is an Opportunity Zone. I've been seeing much interest from foreign investors who are asking about doing business in Puerto Rico. We haven't seen those large investments yet, but the climate is one that hasn't been seen in a long time," said Álvarez.
Puerto Rico has been in a 12-year recession during which "everybody has suffered," said Álvarez. "Many businesses didn't survive that recession, but those that did survive, did so by being much more efficient, getting through an incredibly challenging environment."
Now, the island has the opportunity to change its course and become more sustainable and better thought-out, he said. Álvarez believes Puerto Rico will be smaller, population-wise, which will mean adapting to changes.
The Oversight Board and debt negotiations
In his assessment, Álvarez said resolving the matter of Puerto Rico's debt is important for its economic future.
"To provide Puerto Rico security, we need to reach agreements as soon as possible," he said. "However, it has to be done correctly, because we don't want to become Argentina, which renegotiated its debt and ended up back at the International Monetary Fund asking for money less than five years later."
The Financial Oversight and Management Board for Puerto Rico and the government must try to reach the best — and most sustainable — agreements possible with creditors, based on real numbers.
"There's concern that the revenue estimates being used to determine how much money there is available to pay debt are the most precise possible," he said. "If we're too optimistic in those estimates and we pay all of the debt, we're going to have that [Argentina's] problem."
However, creditors likely think the opposite, that Puerto Rico is being too pessimistic and that there is money available, but "the government just wants to negotiate the debt and get away with it, and go back to business as usual," the executive said. "In that sense, one of the Oversight Board's roles is to measure that."
Finally, he said the public scuffles between the Oversight Board and the government also serve to undermine investor confidence.
Popular to donate $1M to UPR
With a history marked by ups and downs, but also by a consistency in its effectiveness, Popular will begin celebrating its 125th anniversary this Friday. Throughout its history, the century-old company can attest to having been in major events that have marked the island's history and culture. From the change of sovereignty, economic depressions and hurricanes, to the exponential growth in cultural and social terms that has led to Puerto Rico to have a worldwide recognition.
"We're a bank with an extraordinary trajectory that spans more than a century. Today we celebrate that we're a strong institution and that we have a team of first-class employees committed to helping our clients achieve their financial goals in the easiest and fastest way," said Álvarez.
As part of its celebration, Popular will donate $1 million to the University of Puerto Rico in Río Piedras over five years. The donation will pay for the development of a "Trading Room" equipped with the necessary equipment and technology to operate and provide business students exposure to the markets. In addition, the funding will cover expenses related to offering series of lectures at the UPR by experts on various topics such as economy, entrepreneurship and innovation, among others.