Ports Authority submits $40.8M grant request for Port of San Juan upgrades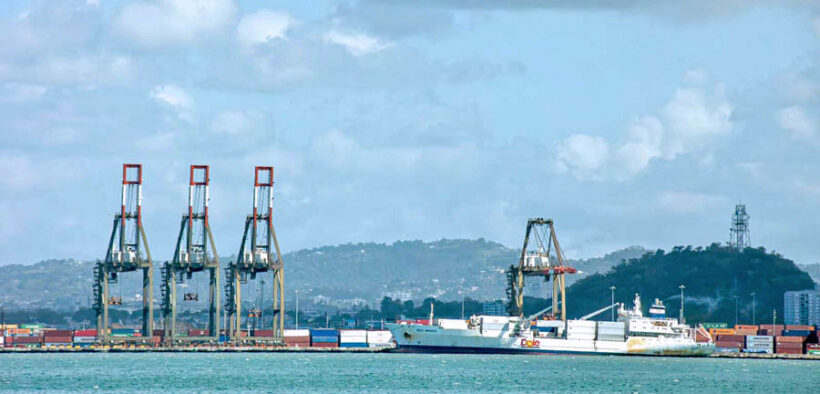 Puerto Rico Ports Authority Executive Director Joel Pizá announced that in conjunction with the island's maritime industry sector, they submitted a grant request for $40.8 million to the U.S. Department of Transportation Maritime Administration's Port Infrastructure Development Program (PDIP) for four projects aimed at modernizing and improving the safety, efficiency, and reliability of the Port of San Juan.
Pizá said that the Port of San Juan plays an essential role in supplying food, fuel, and manufactured goods to the people of Puerto Rico, as well as serving as a key maritime route between the Panama Canal and the Atlantic Ocean.
The funding request was submitted to the PIDP, along with Crowley, Puerto Rico Terminals LLC, and Luis Ayala Colón and Sucrs.
"With this $40.8 million request, we intend to make multiple improvements to modernize and reinforce the safety, efficiency, and reliability of the Port of San Juan, through which, along with other important products, 80 percent of the food is received," Pizá said.
"This is the fourth request we have submitted, to improve port infrastructure and maritime routes to address the necessary permanent improvements. Two have been approved, and we are waiting for the others," he said.
The four projects presented in the proposal include two microgrid projects, one at the container cargo terminal operated by Crowley in Isla Grande and another at the container cargo terminal in Puerto Nuevo. This is to provide resilience and energy stability during an emergency or blackout, ensuring business continuity for a critical container cargo transportation infrastructure that provides essential supplies for Puerto Rico's sustainability.
The Crowley terminal project involves the installation of a 500-kW generator for normal operations and two MW diesel generators to balance maximum demand. The Puerto Nuevo project involves the installation of an 8 MW internal combustion engine and 2 MW ultra-capacitor/battery storage.
It also includes a project to improve the pavement at the Puerto Nuevo Terminal to maximize vertical storage of cargo containers. This will allow for better use and safety of approximately 12 acres of a container stacking area. This act would allow the port to move cargo more easily and efficiently when emergency efforts are necessary.
The fourth project is the pavement improvements in the unloading area (Laydown Area) at the Isla Grande Terminal. This involves demolishing and removing an abandoned warehouse building to obtain seven acres of cargo storage and repairing the mooring dolphins used by three-story barges, restoring them for safe and reliable vessel mooring.
"Our work does not end here," Pizá said. "These funds will be available for an additional three years, and our intention is to continue collaborating with our tenants, these, and others, to include them in additional proposals. Together with the maritime industry, we will be working on more federal grants under the Inflation Reduction Act."
Meanwhile, Puerto Rico Shipping Association President Clarivette Díaz, highlighted the importance of the maritime community and terminal operators continuing to work hand in hand, along with the Ports Authority, submitting these requests and presenting infrastructure projects to MARAD so that the current conditions of the island's ports can continue to improve and "greater resilience can be created in our port front, which is so necessary for the island."
"We appreciate the commitment of the maritime community, especially the terminal operators, who have been working hand in hand with the Ports Authority director, looking for major projects that represent improvements for port operations on the island," Díaz said. "Part of the commitment of these companies is through matching funds to make these projects a reality. We know the governor's commitment to ensure that Puerto Rico takes advantage of the availability of these funds, an issue that is of outmost importance to our organization and its members."
Similarly, Hernán Ayala-Rubio, executive vice president of Luis A. Ayala Colon Sucrs. Inc., said he was "very satisfied with the work done and the commitment of the Ports Authority and its executive director, Joel Pizá, as a sponsor for terminal operators to jointly request available funds from MARAD to improve the infrastructure of our terminals."
José Nazario, senior director of operations for Crowley in Puerto Rico, said "at Crowley we're extremely pleased to work and join efforts with the Ports Authority to compete for these federal grants, which will result in improvement projects for our Isla Grande Terminal, for the benefit of our clients and employees.