SBA honors Puerto Rico entrepreneurs at annual awards
The U.S. Small Business Administration honored this year's top achievers — bestowing awards in Puerto Rico and the U.S. Virgin Islands to recognize the enormous contributions small businesses make to the economies of both islands.
In a ceremony held Friday, the agency honored entrepreneur Frank Medina, owner of the chain of the Vita Natura food stores, as "Businessperson of the Year" and Attorney Enid Santiago-Aponte as "Woman Entrepreneur of the Year."
Medina, who has more than 29 years of experience as an entrepreneur in Puerto Rico, founded his first store in 2004. The Vita Natura chain sells natural supplements in Puerto Rico, where it has 20 stores, and in Florida, where it has one location. He also developed an online store to market his products on the web. Natura Vita currently employs 70 people.
"I feel honored to have been chosen as 'Business Person of the Year' among many successful entrepreneurs on the island," said Medina. "This award is the result of many years of hard work to moving my business forward against all adversity, and with each new store that opened, I contributed to economic growth on my island," he said.
The evaluation process to be considered for the SBA award was a rigorous assessment in which several criteria such as the resilience of the business and the increase in the number of employees were taken into account, he said.
Medina selected for the award from hundreds of candidates from all 50 U.S. states, Guam, District of Columbia, USVI and Puerto Rico. The small business executive currently chairs the Puerto Rico Chamber of Commerce's small business committee, and he is running for the trade group's presidency this year.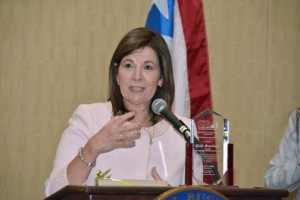 Meanwhile, Santiago-Aponte is the founder of Specialty Pharmacy Services, which has been in business in Caguas since 2006. She opened the business after many years of working in the pharmaceutical industry and experiencing with her parents the difficulty in finding specialized services for patients with chronic conditions.
In 2013, the business underwent a multi-million dollar expansion that resulted in new jobs and more patient services. SPS currently employs about 50 professionals.
SPS dispenses drugs to treat cancer, sclerosis, hepatitis, rheumatoid arthritis, and other chronic conditions, and serves the entire island.
The "Woman Entrepreneur of the Year" award honors a executive per district who has stood out for her management excellence, innovation in sales and business growth.
The new facilities opened two years ago are equipped for the preparation of intravenous solutions to be administered by nursing personnel. It also has an orientation room to teach patients how to use their medications. The company offered free medication delivery services to the patient's home and coordinates for nurses to administer intravenous solutions when necessary.
This is the first specialized pharmacy in Caguas and this concept has been around for some 15 years in Puerto Rico.