Puerto Rico airport officials look to Delta's new JFK terminal for ideas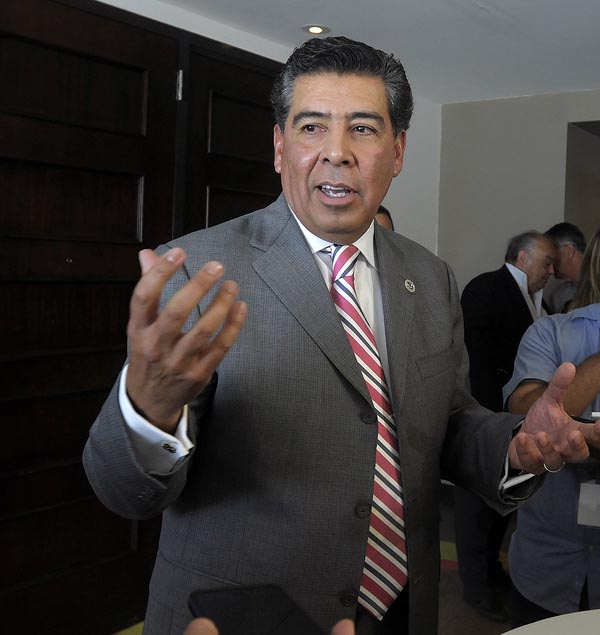 New York — Puerto Rico's top airport official was on hand for last Friday's widely attended inauguration of Delta Air Lines' new terminal at John F. Kennedy International Airport, looking for ideas to improve San Juan's Luis Muñoz Marín hub.
Agustín Arellano, CEO of LMM operator Aerostar Airport Holdings, who was among Delta's VIP guests, confirmed that while in this city, he met with top Delta executives to explore ways to modernize the carrier's operation on the island.
"We completed the plan with JetBlue and we want to do the same with Delta now that we're going to start modernizing Terminal B. It's good to see this concept and how much of it can be integrated in San Juan, understanding that they are two different passenger profiles," Arellano said. "But, we're looking at what can be integrated, and that's why we're here meeting with Delta personnel."
The new 346,000 square-foot $1.4 billion terminal expansion at this international travel hub adds 11 additional gates to T4's Concourse B and houses dozens of concessions and other amenities for the thousands of passengers who move through the facility on a daily basis.
Off the top of his head, Arellano said T4's modern passenger services and comforts, as well as retail concessions, are two of the areas that could potentially be replicated in San Juan.
"What we're seeing here is an example of how we have to modernize and how it shouldn't be a surprise to anyone that changes are made to what we're used to," Arellano said. "If there are changes in San Juan, it's because they're necessary, not because we want to push somebody out of an existing space. It's because we need to modernize the commercial offer."
Aerostar has already said it plans to start renovating LMM in November, when Terminal B will be closed down and all carriers and concessions will be moved to Terminal D. The operator will then begin pumping significant money into improvements. Most will benefit Delta and other carriers, which would not be required to invest.
"Delta is not putting money into the terminal, but rather into its operation in terms of flight frequencies and destinations," he said. "We make the investment in the terminal."
Ultimately, Aerostar and the carriers split the profits of an expanded operation, as business partners, he said. The Puerto Rico Ports Authority, which owns the airport, will also get its share of the revenue as established in the 40-year lease contract signed earlier this year.
Bloomberg, Branson & baseball players
The May 24th inauguration ceremony drew a list of prominent government and business representatives, as well as several athletes who are synonymous with The Big Apple.
New York City Mayor Michael Bloomberg, Virgin Atlantic CEO Richard Branson — whose airline will soon be partly owned by Delta — and Major League Baseball legends Bernie Williams and Keith Hernández were among the VIPs in attendance.
"Thanks to Delta's $1.4 billion investment, travelers to and from JFK will experience a state-of-the-art facility with improved amenities and better services," said Bloomberg. "Over the past six years, Delta has doubled the number of employees based at JFK and created quality construction jobs, with a focus on local hiring. We look forward to their continued expansion and partnership with New York City."
Delta, the Port Authority of New York and New Jersey and Schiphol Group financed the T4 expansion project jointly. During the news conference, Delta CEO Richard Anderson said Delta's investments "were just beginning" at JFK, where it will immediately start on a second expansion at T4 — a $175 million project that will add 11 more gates and 75,000 additional square feet.
Meanwhile, Anderson said, "The state-of-the-art Terminal 4 facilities have been years in the making and Delta people, global customers and the residents of New York now have the international hub facility that they expect and deserve."
"It's an exciting time at Delta and JFK Terminal 4 is emblematic of the investments we are making in New York and around the world.  We are celebrating today thanks to the hard work and dedication of our partners in this project including the Port Authority of New York and New Jersey, JFKIAT and the Schiphol Group," he said.