Puerto Rico high schoolers win Oracle's ThinkQuest '12 competition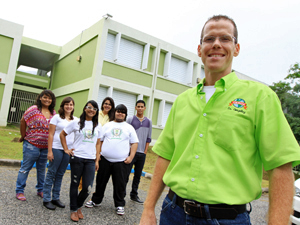 A group of Puerto Rican students from the Josefa Vélez High School in Peñuelas and another from the Cupey María Montessori School won first and third place, respectively, in the category of 16 and under during the most recent ThinkQuest 2012 competition sponsored by the Oracle Education Foundation.
The two local groups competed against more than 51,000 other participants from 59 countries, presenting solutions to real-life problems applying their critical thinking, communications and technology skills.
The students from Peñuelas won first place in the category of students 16 and younger for their "Our living roof" project, proposing an ecofriendly solution to diminishing the dependence on air conditioning, and hence, energy consumption through a rooftop garden. The group aims to generate awareness that roof gardens are an affordable, ecofriendly solution to eliminating electricity consumption and decrease their ecological footprint.
The group won a $1,500 laptop computer, a trip to ThinkQuest Live in San Francisco later this year and $5,000 for their school.
Meanwhile, the five students representing the Cupey María Montessori School took third prize in the same category with their project, "Zeroes to heroes," to raise student awareness about violence in Puerto Rico and provide solutions to help bring peace to their community.
The group won a laptop worth about $1,000.
"We're pleased to recognize the incredible achievements of students in Puerto Rico who participated in this year's competition," said Jaime Matus, CEO of Oracle in Puerto Rico. "The ThinkQuest Competition helps students develop the skills needed for work and life in the 21st century. It's a pleasure to see how skills like this can spark students' interest in technology."
The 24 winning teams from three divisions according to age group were selected from among 5,624 representatives from France, Great Britain, Greece, India, Macedonia, Malaysia, Puerto Rico, Romania, Serbia, Singapore, Sri Lanka and the U.S. mainland.