Roosy Roads Redevelopment Authority partners with SWA, DNER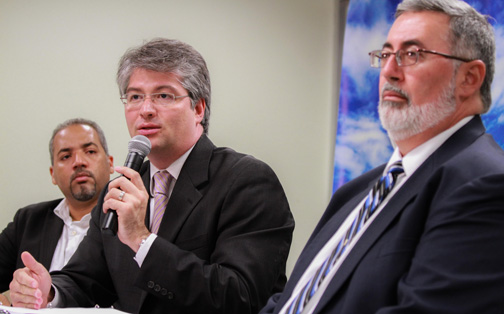 The Roosevelt Roads Redevelopment Authority is partnering with the Puerto Rico Solid Waste Authority and the Department of Natural and Environmental Resources to respectively operate the existing recycling plant and provide water and land surveillance services at the former naval base.
Both agencies signed separate "memorandums of understanding" with the Redevelopment Authority, Executive Director Mario González-Lafuente said Tuesday.
"The signing of these agreements are a shining example of how government agencies can work together to achieve mutually beneficial goals for the parties involved," González-Lafuente said.
The DNER will set up offices two buildings at the Roosevelt Roads commercial dock, taking up 10,968 square feet and 7.33 acres of land, and will assign more than 40 agents, as well as Ranger Corps and administrative staff.
"Providing surveillance and security to the assets acquired Puerto Rico's government earlier this year represents an important responsibility in our agenda," said DNER Secretary Daniel Galán-Kercadó. "The DNER has the resources and staff to provide such services, and we believe the commercial marine facilities at the former base are an ideal place to establish the operation."
Moreover, the Memorandum signed with the SWA allows them to rent the facilities for recycling operations or sub-contract the job to a private operator. The SWA will also move into two buildings totaling some 14,300 square feet of space and that should create 12 direct jobs and some 180 indirect jobs by year's-end.
The recycling plant will process clean, mixed recyclable materials and will separate and group them according to their classification. Among the materials that will be received and processed are: aluminum, glass, paper, plastic and cardboard. Any material received that is not recyclable will be disposed of in facilities outside of Roosevelt Roads. Also, all solid waste generated in the plant as a result of the operation will be discarded as per applicable federal and local laws, he said.
Meanwhile, SWA Executive Director Antonio Ríos said through the establishment of this operation the agency he heads will meet its goal of expanding recycling facilities in Puerto Rico, with the potential to turn in a Roosevelt Roads into an "important regional recycling center in the this area of Puerto Rico."