Suiza Dairy settles EPA case; to pay $275K fine, invest $3.7M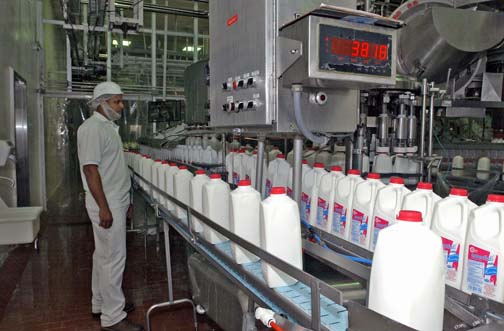 Puerto Rico dairy producer Suiza Dairy has agreed to pay a penalty of $275,000 and invest some $3.75 million in plant upgrades to settle Clean Air Act violations, as per an agreement with the Department of Justice and the U.S. Environmental Protection Agency.
The settlement stems from violations at two Suiza Dairy Corporation dairies located in Río Piedras and Aguadilla, including two major releases of anhydrous ammonia from the Río Piedras facility, federal officials said Monday.
"This settlement penalizes Suiza for violations of the Clean Air Act that resulted in two illegal releases of poisonous gas that put the community at risk, including one release that caused the hospitalization of several residents," said Ignacia S. Moreno, assistant attorney general of the U.S. DOJ's Environment and Natural Resources Division.
"Today's agreement will prevent future violations of the Clean Air Act safety standards by requiring Suiza to upgrade its refrigeration technology and emergency notification system," she said.
The consent decree requires Suiza to spend on projects that will significantly improve the refrigeration systems at both facilities, considerably reduce the amount of anhydrous ammonia in the systems at both facilities, improve alarm and ammonia release notification procedures, and provide medical training and/or equipment to medical personnel to treat persons affected by exposure to anhydrous ammonia.
Suiza will also conduct emergency drills in the communities located adjacent to the facilities, to train community members on what to do in the event of an accidental release of anhydrous ammonia.
Suiza officials said the agreement disclosed with the EPA describes certain measures that have already been implemented.
"Suiza has spent more than three years making improvements in the operation and in cooling systems safety at both plants. It will also make a huge investment in such systems operated with ammonia as the refrigerant, that will increase leak detection above the levels required for the industry, and reduce the amount of ammonia used in both plants," said Francisco Pérez, general manager of Suiza Dairy Corporation.
Suiza commands 65 percent of the island's fresh milk market and employs 900 people throughout five distribution centers and two production facilities on the island. Aside from making dairy products, it produces "Suiza Fruit," "Suiza Puro" and "Suiza Premium" beverages.
"Reducing toxics in the air is a priority for the EPA.  These facilities were very poorly run and the communities around them suffered as a result, with some people being sickened by a major release of ammonia into the air," said EPA Regional Administrator Judith A. Enck,.  "This settlement requires the company to comply with the law and not jeopardize people's health."
Suiza's first accidental ammonia release from the Río Piedras facility was in July 2005. Then in May 2007, approximately 1,146 pounds of anhydrous ammonia was released into the atmosphere causing at least 14 residents from the community located near the Río Piedras Facility to require medical attention. At least nine of the people requiring medical attention also required an overnight stay in the local hospital.
Following these releases, and complaints from residents near the Aguadilla facility, the EPA submitted information requests to Suiza and conducted multiple inspections at both facilities.  In September 2007, EPA issued Suiza administrative orders for both facilities, ordering Suiza to bring the facilities into compliance.
Suiza failed to comply with both orders, leading the EPA to reinspect both facilities in May and October 2009, picking out 40 violations at each facility, including for example: corrosion to anhydrous ammonia transfer lines, failure to implement an adequate alarm system, improper labeling of valves and equipment, and improper ventilation.
The settlement requires Suiza to implement more than 40 compliance measures at each facility to address the violations.
The proposed consent decree is subject to a 30-day public comment period and final court approval.