US Airways employee volunteers mark 15th anniversary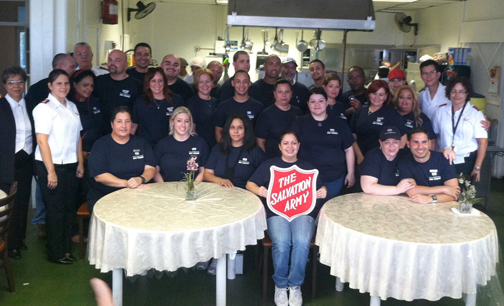 US Airways' employee volunteer corps, the Do Crew, marked its 15th anniversary earlier this month with the Salvation Army in San Juan. To celebrate, the 25 volunteers partnered with the nonprofit's Project Hope, which provides shelter to homeless men 18 years or older.
Project Hope offers its clients meals and provides for their hygiene needs, while also providing and coordinating community, medical and psychological services that help the program's participants find work and a home.
Do Crew volunteers served dinner and held mock job interviews for those at the Project Hope shelter, which will help build participants' interviewing skills.
"By volunteering where they live and work, our employee volunteers have strengthened these communities by building strong relationships with organizations that serve those in need and provide other support," said US Airways CEO Doug Parker.
"Employees from all levels of the company work together side-by-side on projects, which enables them to build relationships across departments at all levels and help them to better understand their colleagues," he said. "Those relationships have helped build US Airways into the airline it is today."
Since its inception in 1997, thousands of employee volunteers have donated more than 150,000 hours of community service to nonprofits around the country.
The Do Crew has chapters in the airline's key cities of Charlotte, N.C., Philadelphia, Phoenix, Pittsburgh, Washington, D.C. and Winston-Salem, N.C. Employees who live in other cities around the airline's network, including San Juan, participate in Destination: Do Crew volunteering activities with local nonprofit organizations.
As part of their volunteerism, US Airways donates $10 per hour per employee to the nonprofit organization hosting Do Crew volunteers.