Walmart opens first in-store health clinic in Barceloneta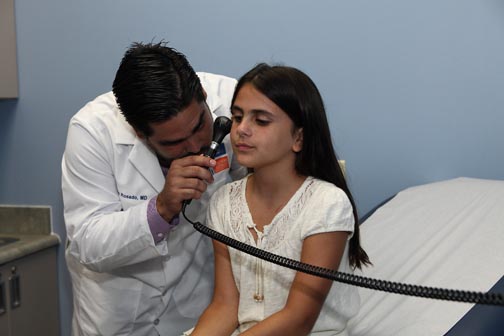 In response to its customer's health needs, Walmart Puerto Rico announced Wednesday the opening of its first in-store health clinic on the island, at its Barceloneta Supercenter. The Clinic at Walmart is possible through a partnership with medical group Doctor Express.
"Our commitment is to provide our customers with high quality medical services in a welcoming environment in which the whole family can benefit from first-rate, varied, and low-cost health services, so they can improve their quality of life," said Bruni Torres, manager of corporate affairs at Walmart Puerto Rico.
The Clinic at Walmart concept has been operating successfully for eight years stateside, where there are about 150 such walk-in health care facilities. In Puerto Rico, the new clinic will be run by physicians Pedro F. del Valle de Tomás and Amílcar Torres Figueroa.
To open the space, the team of doctors received a $200,000 credit line from the Economic Development Bank, to cover operating capital and promotional efforts, agency President Ivonne Otero said Wednesday.
"Doctor Express is an innovative example of how small and medium businesses can reinvent themselves," Otero said. "Doctors Pedro Del Valle and Amílcar Torres have developed an idea that is practical and accessible for consumers, with the unique appeal of being able to shop and see doctor at the same time, without wasting time."
The Doctor Express clinic generates 75 jobs, she said.
"The Clinic at Walmart will be attending various conditions such as viral gastroenteritis, ear infections, asthma, arthritis, spasms, circulatory problems, diabetes and hypertension, among others," del Valle said.
Doctor Express will offer primary care services, including prevention, diagnosis and treatment of common health conditions. More complicated cases may be referred to specialists who will offer their services at the clinic once a week.
"We will also provide immunization services for adults and children," he said.
Operating hours for the walk-in clinic are: Monday through Saturday from 9 a.m. to 7 p.m. and Sunday from 11 a.m. to 5 p.m.