AES Ilumina powers up Guayama solar energy farm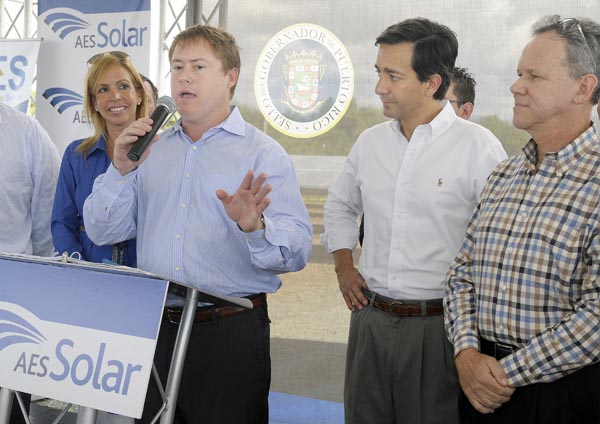 One year after announcing the start of construction of Puerto Rico's largest solar farm in Guayama, AES Ilumina, LLC and government officials witnessed Monday the start of operations of the $96 million clean energy production project that will sell all of its output to the Puerto Rico Electric Power Authority under a 20-year power purchase agreement.
The plant has been touted as the cornerstone for energy diversification on the island, and the vehicle to improve the ability to promote investment and employment in the private sector.
Capital expenditures for the 138-acre solar farm comprising 101,000 photovoltaic panels totaled $96 million, plus an investment in machinery and equipment of $80 million, company officials said.
"We're very proud to start commercial operations of the first solar photovoltaic project on a large scale in Puerto Rico," said Neil Watlington, project manager of AES Ilumina, LLC. "Today we test the financial, technical, and operational viability of modern renewable energy. It is a historic step that opens the door to a more sustainable future and investment opportunities."
The project was the first to benefit from funds available through the American Recovery and Reinvestment Act, receiving some $30 million — which are included in the $96 million investment — through the Puerto Rico Green Energy Incentives Act.
On hand for the inauguration, Gov. Luis Fortuño said his administration's approval of the "Public Policy Act on Energy Diversification through Sustainable and Alternative Renewable Energy in Puerto Rico" has paved the way for such companies to launch operations on the island.
"We made possible the establishment of companies offering alternative energy generation such as AES Ilumina, and which we intend to become our allies to reduce dependence on fossil fuels and the price of electricity, avoid the loss of capital, preserve the environment, our natural resources, and improve the quality of life of our citizens," said Fortuño.
AES Solar is a joint venture between The AES Corporation and Riverstone Holdings LLC and was formed to develop, own and operate utility scale photovoltaic solar installations around the world. AES Solar currently has 191 MW in operation or under construction in the United States, Spain, Greece, Italy, France, Bulgaria, and India with substantial development activity in other countries.
The owners of the Guayama photovoltaic farm, which sits on land purchased from the Puerto Rico Industrial Development Company, aim to position the island as a leader in solar energy production.
The park will have the capacity to provide energy equivalent to 6,500 homes annually and joins another six renewable energy ventures currently under development across the island, in Arecibo, Santa Isabel, Guayanilla, Salinas  and Naguabo, with associated investments of $1.3 billion.