Claro Chief: Puerto Rico market still ripe for growth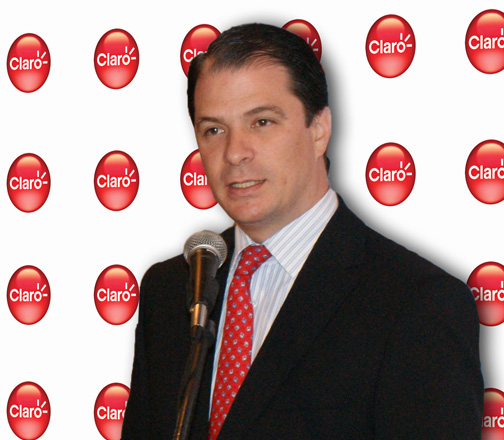 Four years after taking over the reins of Puerto Rico Telephone, the island's largest telecommunications provider, company President Enrique Ortiz de Montellano believes there's still a lot of work ahead to spur the growth of landline, wireless and paid television markets.
"Puerto Rico's wireless penetration stands at about 83 percent. In Panama, it's at 203 percent. The median in Latin America is 110 percent. We have a lot of work to do," said the executive who landed in Puerto Rico in 2008 after Mexico's América Móvil bought the local telecom company that now operates as Claro.
In an exclusive interview with News is my Business, Ortiz de Montellano said that to drive that growth, companies will have to continue investing in networks while looking for ways to attract customers.
"This is about access, not devices. The penetration is so low that we could have another three million active lines out there. But the truth is that this is a market that requires capital investments and scale," he said.
That said, Ortiz de Montellano confirmed that over the past four years Claro has pumped close to $1 billion into its business units — fixed and wireless telephony as well as other telecom services — to develop products and keep up with a market that evolves quickly.
"When we took over Puerto Rico Telephone (Claro) we committed to invest $1 billion in five years, and we achieved that in our fourth year," he said. "That requirement was something that was easy for us to accept because we knew that this business necessitates investment as networks change. We plan to keep up the pace, investing about $225 million annually."
"What we always saw and are still seeing is the great potential Puerto Rico has because of the low Internet, wireless and paid television penetration rates. Claro is making the investments, laying down networks and putting technology in place to go after those markets," he added.
Before the end of this year, Claro should be unveiling two next-generation services — its 4G Long-Term Evolution platform and Internet Protocol Television, or IPTV, which are the result of that ongoing investment program.
"Our LTE network will be deployed in stages, initially covering the San Juan metropolitan area and main towns, including Ponce and Mayagüez. However, this is something that will be transparent to the customer, because we will continue running our CDMA, 2G and 3G networks," he said.
With that launch, Claro will join AT&T, T-Mobile, Sprint and Open Mobile in the competition to offer LTE, a digital platform that gives mobile phone customers access to faster transmission speeds for broadband and other services. Given that there are roughly 3.2 million mobile phones in use in Puerto Rico, carriers have said LTE will contribute toward bridging the island's significant digital divide.
IPTV by Christmas
During the interview, Ortiz de Montellano confirmed that by Christmas, Puerto Rico consumers will have access to Claro's IPTV paid television service, which has been more than three years in the making.
Hundreds of channels, "a la carte"-like programming and high-definition features are among the services that will be available through the islandwide platform that will compete head-to-head with cable providers and satellite television operators serving Puerto Rico.
Once live, Claro plans to include IPTV in its service bundles, looking to capture more customers seeking a one-stop-shop provider, he said.
"This business is about convergence. Consumers want to see savings and efficiencies and be able to have the ability to go to a single provider to get what they want," he said.
Consolidations a possibility
Five carriers that have been driven to extreme creativity to retain and attract customers while keeping their operations financially viable serve Puerto Rico's wireless market.
The last consolidation that took place in Puerto Rico was the merger between AT&T and Centennial in July 2010 as a result of a nationwide transaction between the carriers. But another deal announced last week between T-Mobile and MetroPCS in the U.S. mainland could also indirectly affect the island, precisely because of the economies of scale that are expected as a result.
If approved, the combined companies will have greater buying power for equipment and devices that could eventually trickle down to Puerto Rico's T-Mobile customers.
Ortiz de Montellano said because the telecom business is so capital-intensive, more consolidations between wireless companies are still possible.
"I believe there is opportunity for consolidation in Puerto Rico. This industry requires a lot of capital and scale to be able to conduct big negotiations for equipment, antennas and such. Small companies are joining the bigger ones because they need that scale," he said.
"Wireless rates never increase, they always drop and to be able to maintain that pace, you have to negotiate well, keep your costs low and be very efficient," he said. "The other issue is the bundling. Companies that don't offer several bundled services will need to make a decision because it's going to become harder to compete."