A look back at '13's economic ups and downs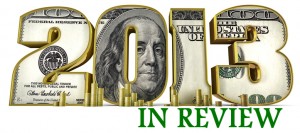 Puerto Rico's economy continued to be a hot button issue as growth continued to stall. The tourism industry was plagued by casino closings and the controversy over illegal slot machines.
Still, there were some bright spots throughout the year such as Puerto Rico's 30th place in the World Economic Forum's global competitiveness report and an increase in auto sales.
Economy
In January, Fitch Ratings placed the island's general debt, as well as that of several government agencies, on negative watch.
That same month, bankruptcies were up 1 percent when 739 cases were filed at the U.S. Bankruptcy Court, research firm Boletín de Puerto Rico disclosed Tuesday. Of those cases, 447 sought Chapter 13 personal bankruptcy protection, up 7 percent when compared to the filings on record for January 2012.
In March, New York-based Standard & Poor's Ratings Services lowered the government's general obligations rating to 'BBB-' from 'BBB' — one notch above junk – Citing Puerto Rico's ongoing budget gap.  The outlook is negative.
That same month, Fitch Ratings followed suit and  downgraded Puerto Rico's debt to 'BBB-' from 'BBB+, a notch above "junk."
In July, the Puerto Rico Government Development Bank unveiled the Economic Activity Index for the month of May, which registered a 3.4 percent year-over-year reduction from the same month in 2012 and marked the sixth consecutive month of downward results.
In September, Puerto Rico landed in 30th place among 148 countries around the globe in the World Economic Forum's" Global Competitiveness Report," jumping from 31st place last year and 35th place in 2011.
In October, Standard & Poor's Ratings Services affirmed its 'BBB-' rating and negative outlook on Puerto Rico's general obligation (GO) and appropriation debt, based on — among other things — the commonwealth's weak economic trends that began in fiscal 2007, including population declines and economic contraction.
In December, the Government Development Bank revealed the Economic Activity Index for the months of September and October, which showed that September registered a 5.2 percent year-over-year reduction, while October reflected a 5.4 percent drop when compared to the same month in 2012. These results keep Puerto Rico in negative territory for the 11th consecutive month.
Auto
In January, Chrysler Puerto Rico announced that it sold 9,029 units in the island in 2012.
That same month, Ford reported that it sold a total of 11,017 units in 2012, representing a 6.6 percent increase over 2011, locking down its second place position in the Puerto Rico auto sales market.
In March, Suzuki del Caribe announced it would discontinue sales of new autos  in the Puerto Rico market after 2014.
That same month, new car sales dropped 6.5 percent.
In August, the United Automobile Importers Group (known as GUIA for its initials in Spanish) reported that the percentage of cumulative change in the industry during the January-July period, when compared to the same period in 2012, reflected a slight growth of 1.9 percent.
In November, Puerto Rico car sales showed a slight improvement representing a 1.7 percent year-over-year increase, said the United Automobile Importers Group (known as GUIA for its initials in Spanish), an organization that represents the local automotive industry.
Banking
In January, Oriental Financial Group Inc. announced the road-map for the integration of Banco Bilbao Vizcaya Argentaria Puerto Rico and the combined companies' branding and business strategy.
That same month, VIG Mortgage revealed it would expand its business on and beyond the Puerto Rican territory this year, investing some $200,000 to open a branch in Orlando and two more on the island.
In February, Doral Bank announced it would expand its participation in Puerto Rico's insurance market by adding new coverage options, including life, health and auto protection plans, via its Doral Insurance division.
That same month, Santander Puerto Rico President Román Blanco-Reinosa outlined the financial institution's strategy through 2015 — a plan that calls for achieving a net profit of $100 million in three years by focusing on five core business areas: high value customers; commercial clients; wealth management; consumer accounts; and insurance.
That same month, UBS Puerto Rico announced the creation of the U.S. Municipal & Income Fund Inc., an additional investment alternative to its existing portfolio of funds.
In March, Popular Inc. President Richard Carrión was elected a Class A director for a three-year term representing Group 1 of the Federal Reseve Bank of New York, which consists of banks with capital and surplus of more than $1 billion.

In April, EVERTEC Inc. announced priced its shares at $20 for an initial public offering.

That same month, Popular Inc. reported a first quarter loss of $120.3 million that reflected some $189.6 million in after-tax losses and adjustments related to the sale of a bad loan portfolio and other assets.
That same month, OFG Bancorp, formerly Oriental Financial Group Inc., revealed its first quarter results, which reflected income of $17.7 million for the three-month period, up from the $9.5 million reported for the same year-ago quarter, and a loss of $23.3 million, or ($0.53) per share, in the fourth quarter of 2012.
In May, Evertec Inc. announced $27.5 million in adjusted net income, or a 37 percent year-over-year increase, for the first quarter.
In June, First BanCorp, the parent company of FirstBank Puerto Rico, completed the sale of non-performing residential mortgage loans with an unpaid principal balance of $236.6 million (book value of $203.6 million), as well as other real estate owned ("OREO") properties with an appraised value of $22.3 million (book value $19.2 million).
That same month, Doral Financial Corporation announced a 1-for-20 reverse stock split of its common stock.
In July, Popular Inc., Banco Popular de Puerto Rico's parent company, reported net income of $327.5 million for the second quarter.
That same month, OFG Bancorp, parent company of Oriental Bank, reported second quarter results that reflected $34.1 million in income available to common shareholders, or $0.68 per share diluted.
That same month, First BanCorp., the parent company for FirstBank Puerto Rico, reported a net loss of $122.6 million for the second quarter of 2013, or $0.60 per diluted share.
That same month, Doral Financial Corporation reported a net loss of $10.4 million for the  second quarter of 2013.
In September, Popular Inc. announced that Richard Carrión will continue as CEO and Chairman of the financial institution after participating as a candidate for president of the International Olympic Committee (IOC).
In October, The Church of God Mission Board established the first credit union in Puerto Rico in more than a decade.
That same month, the Santander retail banking brand was launched in the United States.
That same month, UBS Financial Services made public a letter addressed to its client base, which addressed the company's alleged decision to take out non-purpose loans to buy closed-end funds, or any other security, saying doing so is a violation of UBS's policies. Furthermore, he also rejected reports that UBS did not have the authority to extend credit lines to Puerto Rico residents.
That same month, Banco Santander Puerto Rico reported a profit for the third quarter of 12 million euros and 64 million through September, an increase of 69.8 percent year-over-year.
In November,the ATH Network launched the ATH Rewards program on Facebook.
That same month, Oriental Bank became the first and only bank in Puerto Rico to offer a mobile deposit solution with "FOTODepósito."
In December, the Office of the Financial Institutions Commissioner  entered into an agreement with Utah-based UBS Bank USA through which the latter will transfer a securities-backed loan portfolio worth $562 million to UBS Financial Services Inc. of Puerto Rico.
Insurance
In May, Triple-S Management Corporation, a managed care company in Puerto Rico, announced consolidated revenues of $592 million and consolidated operating income of $22.7 million for the first quarter of 2013.
In June, A.M. Best Co.  affirmed the financial strength rating of A (Excellent) and issuer credit ratings (ICR) of "a" of MAPFRE PRAICO Insurance Company, its wholly owned subsidiary, MAPFRE Preferred Risk Insurance Company, and an affiliate, MAPFRE Pan American Insurance Company, collectively known as the MAPFRE PRAICO Group.
In July, Triple-S Vida announced its intent to acquire competing insurer Atlantic Southern Insurance Co. for an undisclosed amount.
That same month, Point Guard Insurance unveiled its mobile application, through which customers can submit claims and verify status of existing ones, access contact information and roadside assistance services.
In August, Humana Health Plans of Puerto Rico Inc. announced it would eliminate 329 jobs from its local operation, which represent approximately 47 percent of the company's total workforce after losing its contract with the government to provide health insurance coverage through the public MiSalud plan. The layoffs took effect on October 1.
Tourism
In January, the St. Regis Bahía Beach Resort in Río Grande, Puerto Rico's only "AAA Five Diamond Rating" recipient, closed its second year of operations with about $30 million in revenue, representing a 10 percent year-over-year growth.
Later that month, Expedia Inc. bestowed upon Puerto Rico its "Top Travel Destination of the Year" award.
In February, Disney Cruise Line picked San Juan as its homeport for cruises traveling to the Southern Caribbean beginning in the fall of 2o14.
That same month, the Best Western Plus Condado Palm Inn & Suites opened. The $20 million property added 151 new rooms to the heart of San Juan's trendy Condado district.
In March, the Puerto Rico Tourism Company reported $6.6 million in hotel room tax collections in January, representing a 16.6 percent increase when compared to the same month in 2012.

That same month, Puerto Rico's travel and tourism industry took the 52nd place in this year's World Economic Forum's Travel and Tourism Competitiveness Report, slipping seven notches since the last time the report was published in 2011.

In May, the Municipality of Guaynabo announced it set aside $85 million to build a 200-room hotel adjacent to the Mario Quijote Morales Coliseum.
In June, Puerto Rican company Green Isle Inc., which owns and operates several small hotels in the Isla Verde area, filed for Chapter 11 bankruptcy, listing nearly $8.1 million in debt.
In July, Parador Combate Beach Resort,owned by XJTT Hospitality, in Cabo Rojo inaugurated a $500,000 expansion that adds 17 new rooms to the property.
That same month, Avianca landed in San Juan from Bogotá, Colombia for the first time after a 12 year absence.
That same month, Gov. Alejandro García-Padilla signed the "Marca País" ("National Brand") law to begin taking formal steps toward creating permanent branding for the island, which is expected to be shielded from political changes or administrative whims.
In August, the Puerto Rico Tourism Company's Gambling Division revisited casino regulations in response to hoteliers who have spent the better part of the last year lobbying for amendments to temper the rules to current economic conditions and provide more flexibility they say would prevent a wave of casino closings.
Later that month, the president of the Union of Electronic Machine Operators (UDOME by its Spanish acronym), Rafael Hernández-Cañete  said they are not to blame for casino revenue losses as a result of illegal slot machines, as the Puerto Rico Hotel and Tourism Association claimed recently.
In September, the Puerto Rico Tourism Company unveiled its economic development strategies to maximize the potential growth of key areas such as new tourism niches, strengthening the quality of services provided to visitors, and increasing the number of tourists that visit the island.
Later that month, Texas-based Interra Capital Group purchased the long-shuttered Normandie Hotel. Interra plans to invest $40 million to turn the art deco icon into a boutique hotel.
In November, TripAdvisor picked Puerto Rico as Top Destinations Caribbean as part of the 2013 Travelers' Choice Destinations award.
In December, the $49.5 million Hyatt Place & El Tropical Casino opened for business in Bayamón, bringing the global brand back to Puerto Rico after a 10-year hiatus.
Transportation
In January, maritime shipping company Crowley Puerto Rico Inc. agreed to modify and push back the implementation of a new "Chassis Usage Charge" that could have potentially meant an increase in prices for consumer goods transported to the island.
In February, Tthe Ports Authority and the Puerto Rico National Guard discussed a possible move of the latter's operations out of Isla Grande's Fernando Ribas Dominicci and Luis Muñoz Marín International airports to Ceiba, to free up valuable space at the metropolitan area air transportation facilities.
Later that month, the U.S. Department of Transportation's Federal Aviation Administration confirmed its approval of the public-private partnership that will officially transfer control of the facility saying the Puerto Rico Ports Authority has the authority to lease the Luis Muñoz Marín Airport in San Juan to Aerostar Airport Holdings.
In April, regional air carrier American Eagle ended its 27-year run out of the Luis Muñoz Marín International Airport in San Juan.
Later that month, the Port of San Juan recorded a 26 percent increase in total cargo movement during the first seven months of Fiscal Year 2013 in comparison to the same period in 2012.
In May, California-based National Shipping of America announced Wednesday the start of the "Isla Verde Express," a service that will connect Puerto Rico with the western United States via Houston every two weeks.
That same month, more than half a dozen firms waited to participate in the bidding process for the project Novotrén commuter train project connecting Caguas to San Juan,  whose cost is estimated at $400 million.
Later that month, Crowley Maritime Corporation's liner services group announced it was adding more than 3,000 pieces of cargo handling equipment to its fleet through a $275 million investment.
In November, Air Europa announced it would take over the San Juan-Madrid route that competitor Iberia abandoned this year due to economic problems starting in May 2014.
In December, Crowley Maritime Corporation announced it would use the San Juan Port as Caribbean transshipment hub.
That same month, Seaborne Airlines announced it had reached an agreement with the Commonwealth of Puerto Rico to relocate its corporate headquarters from St. Croix in the U.S. Virgin Islands to San Juan as part of a multi-faceted arrangement that calls for a $16 million investment from the government.