Banco Popular, JWT win 1st Cannes 'Grand Prix Lion' for Puerto Rico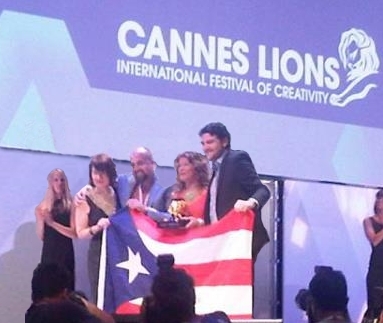 Banco Popular and its agency JWT Puerto Rico were awarded the prestigious Grand Prix Lion for public relations at this year's Cannes Lions International Festival of Creativity in France for the bank's "Echar Pa'lante" institutional campaign.
The honor recognized Banco Popular's "Most Popular Song" campaign, featuring El Gran Combo and marks the first-ever Grand Prix award for Puerto Rico, bank and agency officials said Monday.
"There are no great ideas without even greater clients, and Banco Popular is one of those clients," said Jaime Rosado, vice president and regional creative director of JWT Puerto Rico. "For Puerto Rico, this recognition is overwhelming. We have been in a recession for almost eight years, and this work from Banco Popular became a part of the culture and has created a movement that is seeing Puerto Ricans trying to get ahead."
"From an advertising perspective, this is not only the first Grand Prix for the [island] but also the first one for Central America and the Caribbean. We are overjoyed," he said.
The winning campaign was launched in August 2011 when the lyrics of the Gran Combo's emblematic "Y no hago mas na'" ("I do nothing else") song — which pitches living off welfare — were re-written into "Echar pa'lante" ("Get ahead"), becoming the anthem for a movement by Popular to change negative attitudes and drive the island forward during tough times. The song sparked a political debate and has become the epicenter of the movement by Puerto Ricans toward progress.
"When we embarked on this effort to get ahead, we did not see it as a campaign, but as an opportunity to inspire a change of attitude in our people," said Mariel Arraiza, first vice president of marketing and business knowledge at Popular. "We wanted to invite everyone to get ahead with optimism and perseverance in the face of the difficulties facing Puerto Rico."
"This award shows that we were right in saying that our people have the talent and spirit to get ahead. It shows what can be achieved with will, effort and teamwork," she said.
Just last week, Popular launched the second phase of the "Echar pa'lante" campaign, focusing on three pillars — support, discipline and passion — regular people need to get over the hurdles they face every day.