CofC heads unified college internship initiative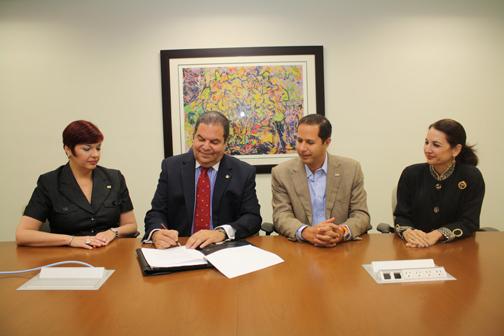 The Puerto Rico Chamber of Commerce, through its public service campaign "Drive the business of your life," aimed at enhancing the island's productivity, announced a collaboration agreement with Cemex, FirstBank and the Association of Private Colleges and Universities to develop a unified internship program for college students.
The internships aim to strengthen the skills of future workers and entrepreneurs, promote employment of young professionals without experience in the business world and foster a learning experience for students to achieve their integration into the island's labor force.
"We believe that the union of purpose is our campaign's main strength. So we consider it prudent to integrate the efforts that various companies were conducting individually to give them additional strength and cohesion," outgoing Chamber of Commerce President Salvador Calaf said.
"This effort to promote work experiences among our youth is an excellent example of initiatives to develop a new generation that is more aware of the commitment and contributions Puerto Rico needs," he said.
The new initiative brings together two private-sector companies, Cemex and FirstBank, which have been running their own internship campaigns, with separate sets of requirements, for some time.
Cemex' "Professionals in Development" program aims to provide practical experience to young professionals to support their development. The hands-on, yearlong experience is offered at the company's local operations.
"Through intensive rotations in more than eight administrative and technical areas of the operation, in the areas of concrete as well as cement, program participants develop operational, interpersonal and personal skills allowing their cohesion and integration with all areas of the organization," said Cemex President Alejandro Ramírez.
In the case of FirstBank, it makes 10 positions available during the semester in areas such as Finance, Accounting, Economics, Information Technology, Marketing, Strategic Planning, Human Resources, Legal and Industrial Engineering.
"At FirstBank we believe that innovation, change and creativity are key elements for developing an enterprise culture and that to be to be a consistent leader in the financial industry, we need to attract highly talented resources," said Iris González, vice president of public relations at FirstBank. "FirstBank internships are designed to provide real work experience in which each student selected will have a mentor assigned and must make a presentation at the end of the period."
Meanwhile, the Association of Private Colleges and Universities believes these programs are an effective tool for students to be able to hone their skills before joining the workforce but also gives them the chance to evaluate the possibility of becoming an entrepreneur in their area of choice.
"Education is an exercise that is constantly evolving and is aligned to the new trends and needs in society," said Ileana Rodríguez-García, association president. "Therefore, higher education institutions have a responsibility to provide our future professionals the skills with which they can assertively contribute to our society."
"This educational process, coupled with the collaboration of other sectors, promotes the development of knowledge and contributes bilaterally to the people at the center of these efforts," she said.