CooPACA reopens Cruce Davila branch in Barceloneta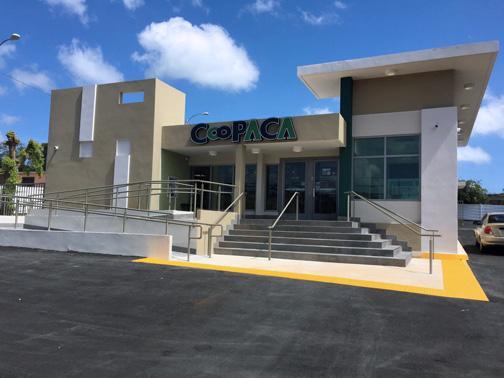 The Savings and Loan Cooperative of Arecibo (CooPACA, for its Spanish acronym) announced Tuesday the reopening of its branch located in Cruce Dávila in the municipality of Barceloneta, after a $1 million investment. The location is now the institution's first "green" branch.
"As part of our unbreakable commitment with our clients and the protection of our environment, CooPACA has installed an advanced solar panel system that will reduce its emissions of greenhouse gases such as carbon dioxide (CO2) in almost 120,000 pounds per year," said CooPACA Executive President William Méndez-Pagán.
The annual CO2 reduction in emissions equals 125 barrels of oil; 2,125 propane gas tanks for home use; 17.2 tons of waste to be burned at a landfill or 6,098 galons of gasoline.
The new 195 solar panel system is expected to generate 77,107 KwH a year, enough electricity to cover 95 percent of the branch's power consumption.
The branch spans a total of 3,520 square feet and has the necessary infrastructure for all customers to access the cooperatives's full range of services including the opening of new accounts and applying for personal, auto & commercial loans, mortgages as well as any other product or services offered by the institution, coupled with ample parking and auto-coop.
This is not the first step taken by CooPACA as part of its strategy to promote the protection of the environment and the adoption of renewable energy sources.
Last year, CooPACA signed a groundbreaking agreement with solar panel seller and installer Solaora. This alliance offers its clients a new type of financing aimed exclusively at those who want to acquire photovoltaic systems for residential or commercial energy generation.
CooPACA offers a variety of financing alternatives, comparable to those offered by private banks, including auto & commercial loans and mortgages, among others.
Established in the municipality of Arecibo in 1946, CooPACA has a 13 branch network to serve its clients in Barceloneta, Arecibo, Cataño, Carolina, Levittown, Trujillo Alto, Ponce and San Lorenzo.