Craft Beer Generation blog celebrates 10 years with special brew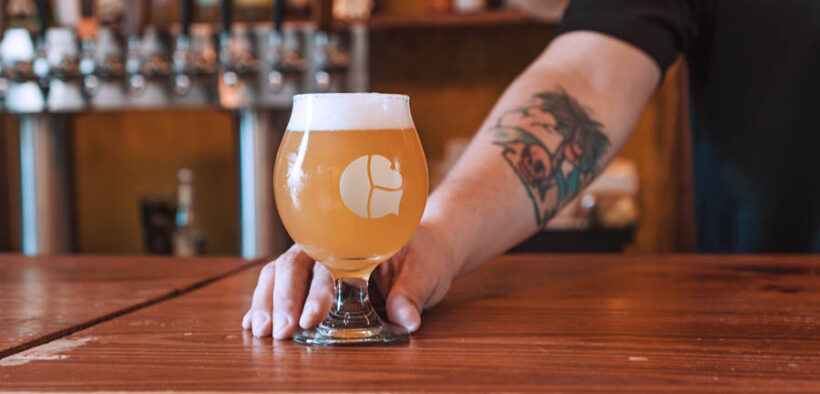 Craft Beer Generation, the prominent media blog focusing on Puerto Rico and the Caribbean's beer industry, recently announced the launch of its first beer in celebration of its 10-year anniversary. Collaborating with three breweries led by Puerto Ricans, the new beverage will debut across parts of the island on Sept. 16.
The beer, dubbed Delicias Berliner Weisse, pays tribute to the home of Craft Beer Generation's founder, Gustavo Franceschini, who was raised in Las Delicias, Ponce.
"The reason for this beer is to celebrate 10 years of having created Craft Beer Generation. And better way than to theme the beer around the place where the blog was born, which is also where I grew up," Franceschini said.
To create this beer, Franceschini teamed up with Manuel Ortiz, who is originally from the southern coastal town of Salinas and now lives in Maryland. Ortiz, the founder of Mano Negra Beer Co. and a contributor to the blog, helped shape the project. Further collaboration came from three breweries in Ponce. Specifically, Luis Esteban Rodríguez from Señorial Brewing and Luis Rodríguez from Papa Rupe Brewing contributed their expertise.
The resulting Delicias Berliner Weisse is infused with passion fruit. The Berliner Weisse-style beer has a slightly sour flavor profile. Ortiz assured that its light passion fruit aroma and "refreshing flavor will make you feel at home."
"I am proud to be part of this launch," Ortiz said. "Gustavo and Craft Beer Generation are very important in our journey."
He also thanked Papa Rupe and Señorial Brewing for "making this project possible."
Echoing this sentiment, Rodríguez from Papa Rupe Brewing said: "For us at Papa Rupe Brewing, it is an honor to have collaborated for the second time with our friends at Señorial Brewing to celebrate the 10-year history of Craft Beer Generation, which for me is the most consistent blog in highlighting the local craft industry.
"It was also a pleasure to collaborate with Manu of Mano Negra, a Puerto Rican in the diaspora, who was able to have the opportunity for consumers on the island to try something he was a part of, even though he was away from the island."
Rodríguez highlighted his excitement to form part of the collaboration, "not only to be able to make an anniversary beer for Craft Beer Generation, but also to be able to make beer with two additional breweries, since it is always very challenging to reach a quick and unanimous consensus, but with this beer, it is what we achieved."
"Whenever we talk about collaborating, it is a challenge since you are going to be doing something you have never done before and there always comes a moment of intrigue during the process, until it is time to try the final product, which is a moment of great joy and satisfaction to be able to see that we managed to do what we wanted," Rodríguez added.
Delicias Berliner Weisse will officially launch in draft format during an event on Sept. 16 at Papa Rupe Brewing in Ponce. Attendees will be able to enjoy the beer with food, and meet brewers.
Beyond the launch, the beer will also be available on tap at multiple locations across the island.
Craft Beer Generation is a Spanish-language blog that was established in 2013 with the objective of educating about beer and reporting on Puerto Rico's breweries and industry figures.