Economists, trade groups predict scenarios for '14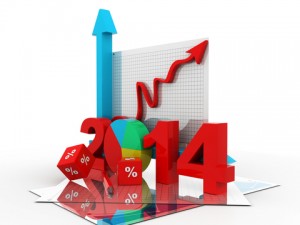 After a challenging year when Puerto Rico's economy remained in contraction, members of the different key industries, trade associations and economists weigh in on what 2014 will bring to the island.
Economic viewpoints
Heidie Calero, president of H. Calero Consulting Group Inc., predicts that the island's GNP growth may range between 0.5 percent to -0.5 percent during fiscal year 2014 provided there is large stimulus and investment between January and June 2014 and 0.8 percent to -0.2 percent in fiscal year 2015.
"These forecasts could change if the focus turns from fiscal discipline and financial markets to aggressive economic growth with outside investment in the range of $12 billion annually," said Calero. "Puerto Rico needs an urgent focus on how to grow the economy and attract $12 billion in new investment annually if this economy is to grow at no less than 3.0 percent real growth."
Calero believes that to be competitive in a global economy, Puerto Rico needs to move toward natural gas and renewable energy, pointing toward a reinvigoration of the agriculture and tourism industries.
"Agriculture has so much potential, it is unbelievable. Food import substitution as well as manufactured or fresh produce exports is possible and PR has to be creative in avoiding dumping strategies from non-local food companies. We have to focus on high valued added niches of organic or eco-friendly products that can be sold at high prices," she said.
"Tourism needs more than an aggressive advertising campaign. It needs a 5-year plan that integrates accommodation, transportation, restaurants, tour operators, languages, island-wide entertainment with packages for three to 10 day stay in Puerto Rico at competitive prices and targeting new markets, such as Asia and Europe. Our niche has to be different, not just sand, casinos, and hotels in the metro area," she said.
"If we are to move forward, Puerto Rico needs to have an agreement among divisive political parties regarding its economic plan. We need continuity irrespective of who wins the election every four years," Calero added.
On the other hand, Estudios Técnicos Inc. continues to reiterate its prediction from 2013 that the island's economic recovery will be "L" shaped. Toward the end of 2013, the Puerto Rico Planning Board published estimates that projected real GDP growth for fiscal year 2014 to be -0.8. The firm has a similar projection.
2014: Similar to 2013
The manufacturing industry is an important segment of the Puerto Rican economy. According to Waleska Rivera, president of the Puerto Rico Manufacturers Association, employment numbers stabilized in 2013 after having dropped considerably in 2012 but the association does not expect further improvements in 2014.
"The projection for calendar year 2014 is for further contraction, the depth of which will depend on factors such as degradation of the debt and what happens in Congress over economic and fiscal issues," Rivera said. "There are, of course, risks that can change the landscape, an important one being what happens to the degradation of debt. In this regard, the decisions made regarding the Teacher's Pension Plan, with an actuarial deficit of $10 billion, is key."
"Another factor creating uncertainty is the impasse in the U.S. Congress regarding various dimensions of economic and fiscal policy. The recent agreement between the two parties over the budget is a positive sign. In short, 2014 will not be a very different year 2013. The risks are mainly on the downside," she said.
The Puerto Rico Chamber of Commerce, on the other hand, is ready to face the challenges that lie ahead during the upcoming months.
"2014 should be a crucial year for Puerto Rico on many economic fronts," said CofC President Jorge Cañellas. "The Puerto Rico Chamber of Commerce plans to submit a paper on why Puerto Rico should be treated differently than foreign countries in the tax reform since after all, Puerto Ricans are U.S. citizens and we have suffered dearly for the repeal of Section 936 as evidenced by the significant reduction in manufacturing jobs."
"Advocating for Section 933 A, or some type of special tax treatment that will make repatriations from Puerto Rico to the US tax efficient will be part of our position paper and should be embraced by the entire business community," Cañellas added.
Other concerns that the executive pointed out include a legislative reform that will "allow open competition in the energy generation phase over the next two or three years and that will  make reality all bona fide renewable energy  projects" and to prevent an economic and governmental crisis through additional credit-rating reductions  even if the economy continues at a standstill.
Optimistic outlook for the technology and telecommunications sector
While the economy continues to be cause for concern, members of the technology and telecom sector are hopeful that business will grow as customer demand increases.
Naji Khoury, president and CEO of Liberty Puerto Rico is optimistic about the new year.
"Despite doing business in an uncertain economy, the telecommunications industry in general will continue to grow. The Puerto Rico market will be no exception to this, as consumer demand for connectivity continues to rise," he said.
Khoury predicts "more company consolidation within the field," which will allow for "better offers for consumers and more competitive prices."
Now that Liberty has completed the integration of OneLink, the executive will focus "on the company as a whole."
Further consolidation of electronic devices and telecommunication services are also in the near future.
"Rather than having separate functions, Internet, cable TV and mobile use will become interconnected. We are now using tablets, TV, computers and mobile separately but we will soon reach a point where all these devices will be integrated into one," Khoury believes.
Khoury revealed that Liberty will now offer more competitive telecommunication bundles which include Internet, cable TV and telephony services and to breach the broadband divide by promoting "broadband adoption on the island."
The company will also focus "on growing our Liberty Business division which has taken off, as we can now take advantage of a larger and more wide-spread fiber network. We have a separate infrastructure for those customers and provide support through its own sales and customer service teams."
Claro Puerto Rico also has a positive outlook toward the new year that is just starting.
"With millions and continued investment in wireless and fiber optic networks, more customers will be able to experience remarkable speeds in their homes and mobile devices in addition to having access to advanced technology," said Ileana Molina, director of corporate relations and advertising at Claro Puerto Rico. "The business sector will also benefit from these advancements, as they can be connected to services and innovative applications and technology solutions that enable them to be more competitive, thereby promoting economic development in the island."
In addition, 2014 will see the end of the construction of the submarine cable that will increase international data transmission to 90 terabits per second and will allow additional penetration of the broadband market. Through the Federal Communications Commission's Connect America Fund, Claro will continue to expand access to the Internet impacting about 40,000 households in underserved communities.
"This will help promote the island's economic development given the close relationship between broadband access and prosperity/global competitiveness," said Molina.
Businesses can look forward to a "boom" in the integration of voice, video and collaboration through the Microsoft Lync platform, replacing traditional PBX and phone boxes," according to Félix Lugo, country manager of Columbus Business Solutions at Columbus Networks Puerto Rico. Other trends include  hosted cloud services, managed services and "as-a-service" solutions.
"Mobility will continue to rise exponentially. The advantage of having access to all applications and systems from any device such as tablets, smartphones, laptop, etc. Virtual desktops technology (VDI) is the response to this growing demand," Molina said.