Haiti's Tourism chief: 'We're ready to receive niche markets'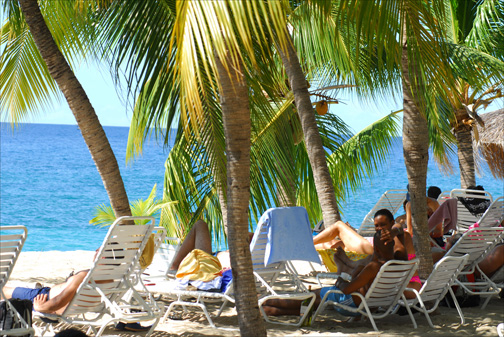 EDITOR'S NOTE: This is the last of a two-part series of stories on the steps the island nation of Haiti is taking to rebuild its economy after the January 2009 earthquake. Haiti's progress in certain segments of the tourism industry could pose a challenge to Puerto Rico, especially in the cruise ship business.
Last year, Haiti received around 600,000 foreigners — half of them "diaspora Haitians" visiting family and friends. The other half was largely business executives and representatives of NGOs. This excludes the 600,000 cruise Haship tourists who called on Labadie, Royal Caribbean's private island off the north coast of Haiti.
At the moment, Haiti has 3,000 hotel rooms, but only 800 of them are at international standards — and nearly all of them are in Port-au-Prince.
These numbers pale in comparison to the neighboring Dominican Republic, which has more than 70,000 rooms. In 2009, according to the country's Central Bank, just under four million tourists arrived by air, and another 497,000 by cruise ship. They stayed an average of 9.2 nights and spent a total of $4.18 billion, making tourism the Dominican Republic's largest single source of foreign exchange.
"If we could get only 10 percent of the Dominican market, we'd be full," said Stephanie Balmir Villedrouin, Haiti's Tourism Minister. "We're not ready to deal with big operators, but we do have enough rooms to receive niche markets."
At some point, Villedrouin said, she's like Haiti and the Dominican Republic to jointly market their two countries along with nearby destinations like Cuba and Jamaica.
"Why don't we offer a combined island-hopping package, a regional branding, with two days in each island? We could have one beach destination and one cultural destination," she said. "When you go to Europe, you don't go to just one country, you visit many countries."
However, Haiti is not likely to attract the kind of massive tourism that's made Mexico's Cancún, Jamaica's Ocho Rios, Cuba's Varadero and the Dominican Republic's Punta Cana famous — at least as long as the country's reputation is overshadowed by TV images of crowded tent cities, impoverished children, quake-ravaged apartment buildings and rampant crime.
"Yes, indeed we have an image problem," she acknowledged. "That's why in my first-year plan I'm focusing not on marketing but on public relations. I believe that social media is very important, so I'm putting in place a PR team with the Ministry of Foreign Affairs to issue positive press releases about Haiti."
Mega cruise ships on the radar
Villedrouin said another of her goals is to rehabilitate the cruise-ship port at Jacmel, a colonial city along Haiti's south coast that was badly damaged in the earthquake. She also confirmed that the existence of a plan by the San Aquino group of local and Dominican investors to build a large private cruise-ship port nearby, along the south coast of Haiti.
Argentine entrepreneur Rolando Gonzalez Bunster, a longtime Clinton friend who is also a member of PACEGI, said tourism will be the key driver of Haiti's economy. "To a great degree, people should invest in what makes Haiti most competitive. The amount of work that can be created with tourism is enormous," he said. "You'll have to create infrastructure and destinations. Today it's a lot easier than it used to be."
Multi-country reconstruction effort
During the IDB conference, González, CEO of Basic Energy Ltd., and Gregory Mevs, chief executive of Haiti's WIN Group, signed a memo of understanding for the construction of a 250-room hotel adjacent to Port-au-Prince's Toussaint Louverture International Airport.
The "Hotel des Artistes", with total investment of $38 million, will feature a traditional Haitian arts-and-crafts motif. It will be managed by a private company, with completion set for early 2013.
"This hotel will serve many Haitians returning to their country who will transit overnight on their way to the cities where they came from," said Mevs, noting that 50 of its rooms will be for extended stays.
Marc-Antoine Acra is general director of Industries Acra. His company is among several working to restore the El Rancho Hotel in Petionville. Before the earthquake, it had 150 rooms — the quake took out 50 of them. Acra said it will cost $6 million to $8 million to rebuild El Rancho, not including an additional 50 rooms that weren't there to begin with.
In addition, a 130-room Best Western is being rebuilt in downtown Petionville, a project that is worth around $20 million. Ironically, the original structure — Haiti's first new international-brand hotel in a decade — had been inaugurated only a few days before the earthquake.
The venue for the IDB investor conference, the Karibe, finished in February 2008, suffered considerable quake damage but has since been restored. Meanwhile, the world-famous Hotel Montana — which first opened in 1947 and was completely destroyed in the quake — has also been rebuilt.
Villedrouin, who in 2007 supervised Haiti's first regional tourism fair at the Hotel Karibe, said that in order to market Haiti successfully, the government will address the infrastructure needed to develop the sector
"I'm putting in place a program with the CTO to help me standardize the products. When a tourist comes, he needs to know what to expect in each type of hotel," she said. "My goal is to help hotel operators upgrade the level of their services. As soon as we have that structure in place, the types of excursions we can create are endless."
News is my Business is reprinting this story with permission from trade publication Travel Markets Insider.