Holiday sales expected to grow 3% to 4.6% in Puerto Rico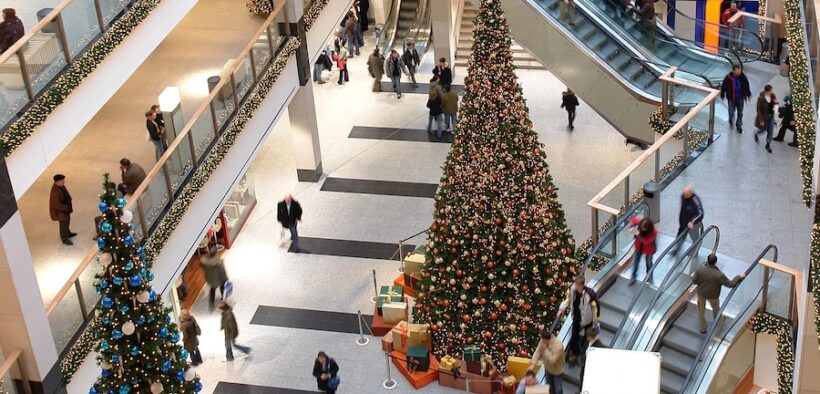 The holidays are upon us. And kids are not the only ones on the edge of their seats in anticipation of what they'll get this year.
Economists and retailers are wondering what the holiday season will bring three years after the COVID-19 pandemic and the resulting business interruptions, labor shortages, supply chain disruptions and social distancing guidelines wreaked havoc on the retail industry.
Since then, some retail stores and businesses have closed permanently, some have reopened and reinvented themselves in a post-pandemic world, and e-commerce has saved the day for countless retailers and consumers either stuck at home or living a new normal.
In September, experts released their holiday sales projections and consumer spending trends for the 2023 season. Most agreed that with a low unemployment rate of 3.8% and wages still growing, sales should increase this year, though not as much as they did last year. Why? Inflation.
Here's a recap.
Holiday sales outlook
Holiday retail sales should increase between 3.5% and 4.6% this year, compared with 7.6% during the same November-to-January period in 2022, Deloitte reported in its annual holiday retail forecast. The global consulting and accounting firm predicts $1.54 trillion to $1.56 trillion in holiday sales versus $1.49 trillion last season.
Deloitte cites cooling inflation and consumers having less money saved than during the pandemic for the slower growth this year.
Market research company Insider Intelligence (formerly eMarketer) projects that retail spending will increase 4.5% to $1.3 trillion this season, with e-commerce accounting for almost 20% of sales and contributing 48.5% of incremental spending gains.
The International Council of Shopping Centers (ICSC) expects a 3.8% growth in U.S. retail sales, alongside a 7.6% increase in food and beverage sales, totaling $1.6 trillion this season.
Global management consulting firm Bain & Co. is more conservative, forecasting a 3% year-over-year nominal growth in U.S. retail holiday sales, the lowest since 2018 and lower than the 10-year average of 5.1%. Bain cites elevated non-discretionary costs, high interest rates and consumer debt among the challenges retailers face this season.
These forecasts do not include Puerto Rico. However, the Economic Development Bank for Puerto Rico reported in August that fiscal 2023 retail sales rose 3.7% year over year to $38.3 billion. Given Puerto Ricans' love for shopping, local retailers are optimistic about holiday sales.
e-Commerce growth accelerates
ICSC's Annual Holiday Shopping Intentions Survey found that 75% of U.S. consumers plan to purchase items online. Spending is expected to be evenly split between online and in-person shopping, with 41% of total expenditures expected at physical stores, 42% to be spent online and 17% on click-and-collect.
According to Deloitte's forecast, year-over-year e-commerce sales should grow between 10.3% and 12.8%, totaling $278 billion to $284 billion this year, up from 7.9% last season.
Salesforce is much less optimistic in its 2023 Holiday Forecast, projecting a sluggish 1% growth in U.S. holiday online sales, amounting to $273 billion. Global online holiday sales, on the other hand, should hit $1.19 trillion, up 4% from in 2022, Salesforce reported based on data from more than 1.5 billion consumers.
Personalized customer service, marketing promotion and commerce experiences powered by artificial intelligence will drive $194 billion in global online holiday spend, Salesforce said, adding that "the savviest retailers will tap predictive and generative AI to win this holiday season."
Over the last 12 months, 13% of online orders were influenced by AI, and 10% of shoppers say they will use generative AI to get inspiration for holiday gifts this year, Salesforce reported.
According to a survey by Sapio Research, 69% of shoppers said they think AI will make it easier to discover new products and brands; 74% of them think that AI will help them find deals and special offers as they shop, and 67% think predictive AI will serve helpful recommendations based on past purchases.
Return policies will affect sales. Retailers offering return windows of 30 days or less will see a 7% decrease in online sales in October and November, Salesforce reported, noting that poor return experiences and unpopular return policies will put 21% of online sales at jeopardy. "Buy online, pick up in store" (BOPIS) orders will drive $28 billion in incremental sales during the holiday season, while social ads will drive 10 times more traffic compared to traditional marketing, Salesforce said.
In Puerto Rico, revenue in the e-commerce market is forecasted to reach $3.18 billion in 2023 and grow at an annual rate of 5.59%, reaching $3.95 billion by 2027, according to a report by Statista. User penetration will be 50.6% in 2023, increasing to 51.9% by 2027, and the average revenue per user should amount to $1,927, Statista said.
Consumer spending trends
Most consumers, 79%, plan to start shopping for the holidays earlier than they normally would, ICSC reported. Of the consumers who plan to shop earlier for the holidays, 51% do so for the early promotions.
But retailers are cautious. According to CNBC's Supply Chain Survey, 71% of retailers expect consumers to cut back on spending because of inflation. In response, 43% of retailers plan to order less inventory than last year.
According to the ICSC, 42% of consumers expecting to spend more attribute this to inflation and higher costs of holiday items, while 54% plan to spend less for the same reasons, and 38% said they expect to spend more as holiday deals and promotions provide more value for their spending.
Consumers anticipate consolidating their purchases across fewer retailers this year, planning to purchase from an average of 2.4 different types of retailers versus 3.4 in 2022, ICSC reported. Discount department stores remain the most popular stop for 63% of shoppers, with traditional department stores the second-most popular destination (34%), followed by electronics stores (22%).
Most consumers plan to pay with a debit (63%) or credit (50%) card, while nearly half (48%) expect to pay with cash, ICSC reported. Consumer credit card debt reached a record high of $1 trillion in the second quarter of this year, according to the Federal Reserve Bank of New York.
Advice for retailers
Given the challenges, Bain & Co. has the following advice for retailers, small and large:
Get an early lead. Shopping starts earlier, and customers could run out of budget.
Lead with value messages and strategic promotions to draw in cautious customers.
Stress positive common values to bring customers holiday joy in tough times.
Act fast on AI to personalize offerings and improve customer service.
Use stores to support profitable online growth – shipping, returns and trials.
Put unit sales and profits above price increases. Investors want healthy growth.