Norwegian Air Shuttle to drop P.R. routes by year's end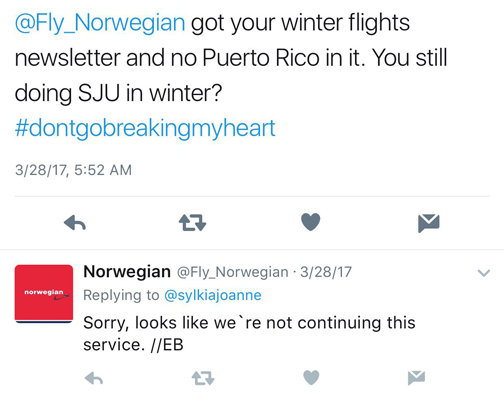 Norwegian Air Shuttle, which officially touched ground in Puerto Rico in November 2015, will drop service between Europe and San Juan effective this winter, the company and local airport officials confirmed.
Word of the decision surfaced late last week, when in response to a customer's question, an airline representative confirmed the upcoming end of service.
.@Fly_Norwegian got your winter flights newsletter and no Puerto Rico in it. You still doing SJU in winter?, the customer asked, to which a Norwegian representative responded "Sorry, looks like we're not continuing this service."
Norwegian Air Shuttle launched four new direct non-stop routes between San Juan and Europe in November 2015, connecting San Juan to London, Stockholm, Copenhagen and Denmark, marking the first time Puerto Rico had direct air connections with the Nordic countries.
On Tuesday, this media outlet confirmed the information with Luis Muñoz Marín International Airport operators, Aerostar.
This is the second time in as many days that Puerto Rico learns of a reduction in air connections. On Tuesday, American Airlines announced the end of its direct flights between San Juan and New York's John F. Kennedy Airport effective September 2017. That route was one of the oldest for the carrier, established in the 1970s.
"I very much regret Norwegian' decision to discontinue its service to San Juan after the end of their contractual commitment with the destination," said José Izquierdo, Tourism Co. executive director.
"I am sure we can recover the service and develop others in the near future given the reorganization of the advertising efforts for the destination allowed through Law 17-2017 that creates the Destination Marketing Organization," he said. The market between Europe and San Juan is a growing and there are several European airlines have shown interest in replacing Norwegian's operations to the island. "