PRatian wins local edition of Global Student Entrepreneur Awards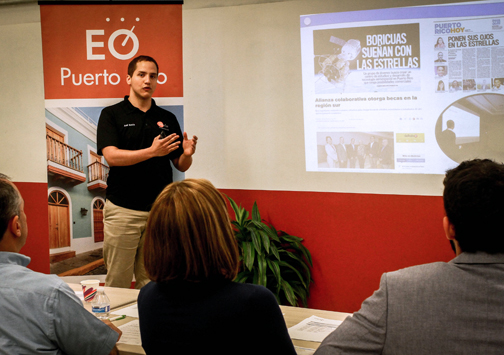 Axel García, and his company PRatian, which is dedicated to developing technologies for the aerospace industry, won this year's local edition of the Global Student Entrepreneur Awards, hosted by the Entrepreneurs' Organization.
The competition is one of the most important on a global level for young entrepreneurs who head a business while enrolled in college. The local competition is a collaboration between EO Puerto Rico Chapter Inc. and Grupo Guayacán Inc.
García has a Master's degree in Aerospace Engineering and is currently completing a Doctorate in the same field through a program offered by the Massachusetts Institute of Technology and the Skolkovo Institute of Science & Technology in Russia.
As the winner, he will move on to the international competition to be held in Toronto in April, where he will compete for more than $500,000 in prizes. He has already won $32,500 in prizes from local competition sponsors including EO, Tactical Media Group and Ferraiuoli LLC. He is also receiving business organization advise from Chévere Consulting Group and a branding kit from FASTSIGNS.
"In Guayacán we are proud to continue strengthening our collaboration with EO. Through the local edition of the Global Student Entrepreneur Awards, we continue to foster a new generation of young entrepreneurs who represent Puerto Rico and become part of the global EO network. This is a unique chance to continue developing personally and as entrepreneurs," said Laura Cantero, executive director of Grupo Guayacán.