Slot machine project at LMM Airport 'under evaluation'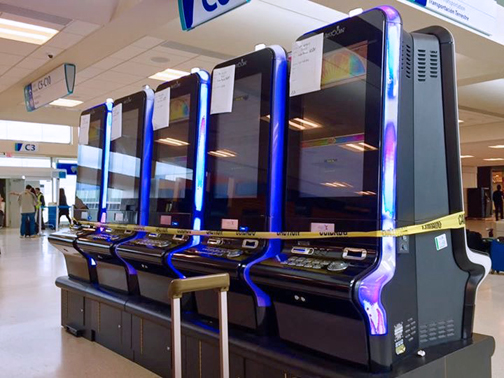 If you are one of the thousands of passengers that have passed through the Luis Muñoz Marín International Airport recently, you may have noticed that the slot machines placed in Terminals A and B have been powered down and cordoned off.
This is so because the pilot program that began in September 2016 is currently being "analyzed and evaluated" to determine its viability, News is my Business confirmed Tuesday.
"At this time, as mentioned, the project is in an evaluation period to determine its performance and areas for improvement," said Jaime Irizarry, director of the Puerto Rico Tourism Co's. Gaming Division.
"This is a process of analysis that is carried out from year to year, and to do a complete analysis it is necessary to finish the project in its pilot stage," he said.
As part of the first phase of the pilot project, 120 slot machines were installed at the LMM airport at a cost of $125,000 for the Tourism Co. The project involved slot machine supplier Aristocrat and Aerostar Airport Holdings, which operates the airport.
When the project was unveiled, former Tourism Co. Executive Director Ingrid Rivera predicted revenue would reach $1.8 million annually, based on the total daily earnings of the machines.
During a second phase of the project, another 80 machines will be installed, and at least eight more jobs will be created pushing the total to 23, mostly employees displaced by recent casino closings.
"It's important to point out that at the request of Tourism Co. Executive Director, José Izquierdo, for the second phase of the pilot program eight people are being qualified who lost their jobs after the closure of the casino at the El San Juan hotel, both in managerial and unionized positions," Irizarry said.
While the project is under evaluation, the machines already installed will not be removed.
"When the evaluation process is completed responsibly, a determination will be made with the parties involved on the operation of the LMM slots," he said.