Puerto Rico lottery tickets now sold at vending machines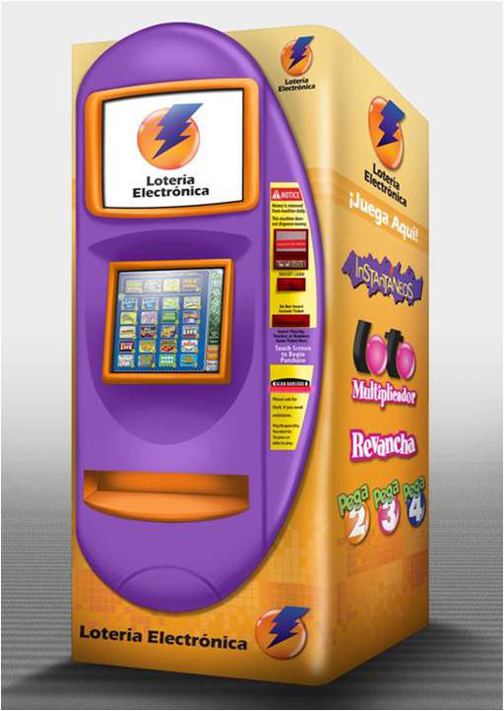 Puerto Rico lottery players now have a new option through which to buy their tickets: brightly colored, free-standing, self-service ticket vending machines recently installed at several big box retailers in the San Juan metropolitan area. Lottery officials are betting the machines could generate close to an extra $1 million a year in gaming sales, this media outlet learned Tuesday.
By June 30, 20 of these "play active terminals" will be in place, but right now only three are in operation as part of a pilot project designed to work out the kinks and size up public acceptance.
Already, however, they are proving a success with weekly sales per terminal of between $800 and $1,000, said Lottery Bureau Assistant Secretary Teresita Carrión-Geigel.
The three terminals are located at K-Mart in Plaza Las Americas, Walmart at Plaza Escorial and Walmart at Plaza del Sol. Future locations will include supermarkets, possibly Supermax and Amigo, in addition to big-box stores, she said.
"So far there has been a good acceptance," said Carrión, going on to note that this alternative is appealing to buyers because they don't have to deal with anyone or feel like they are being judged when buying gaming tickets. "They decide what to play and how much."
The terminals, brightly painted orange and purple, sell tickets for all electronic games including Loto and Revancha; Pega 2, 3 and 4; and scratch-off cards for 24 instant games. The machines dispense no cash and instead of change, buyers get a voucher they can cash-in at the store or use for future ticket purchases.
In selecting locations for the terminals, space is an important consideration given the machine's bulk.
According to King F. Jusino, marketing director for Lotería de Puerto Rico, the 35 inch-wide, 28 inch-deep and 75 inch-high terminal weighs a staggering 600 pounds. Other considerations are store security and ambient conditions.
"The machines need air conditioning to work well," Carrión said.
To stop under-age play, terminals must be located within sight of cashiers to allow employees to keep an eye on who's playing.  Should they spot a minor, they can quickly deactivate the machine, she added.
Stateside trend that pays off
The terminals are among the improvements that Scientific Games, the stateside company hired to operate Puerto Rico's lottery system, offered to carry out when it negotiated a contract extension with the Gov. Luis Fortuño administration last year. SG initially teamed up with the Puerto Rico lottery in 2005 when it signed a seven-year contract worth $66.7 million.
Other improvements included replacing all 2,000 terminals in the system with new and faster equipment, installing separate terminals that provide information on special promotions and 350 ticket checkers in high-sale locations that allow players to check winning tickets.
Puerto Rico's experiment with self-service gaming terminals follows in the footsteps of other mainland states like Florida, Iowa, Arkansas and Oklahoma, which are warming up to this increasingly popular alternative to pump up lottery programs. In Arkansas, 82 machines installed between early 2011 and mid-2012 racked in $3.8 million in sales during the first 14 months, according to katv.com.
In Florida, 1,000 vending machines that exclusively sold scratch off tickets generated $200 million in sales between 2009 and 2010, which led lottery officials to install an additional 500 units. By April 2012, officials announced plans to roll out hundreds of full service lottery vending machines that would offer not just instant games but other games as well, such as Powerball.