Reinhold's Morrow gets Lifetime Achievement Award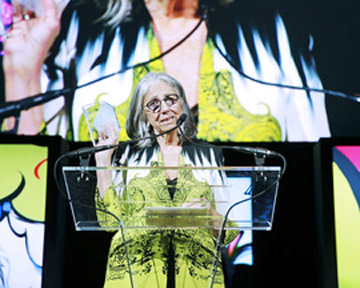 Marie Helene Morrow, owner of Reinhold Jewelers in Puerto Rico, received the GEM Award for Lifetime Achievement at the 12th annual GEM Awards held this weekend in New York, hosted by the Jewelry Information Center.
The GEM Award for Lifetime Achievement is granted to an individual for an accumulated career's worth of contributions to the fine jewelry and watch industry. Honorees set a standard of excellence that serves as an inspiration to industry colleagues.
"Marie Helene Morrow is a brilliant and shining light in our industry," said Rachel Branch, GEM Awards chair. "Her impeccable aesthetic and eye for spotting talent have not only made Reinhold Jewelers a household name, but have also launched the careers of many great jewelry designers. Marie Helene embodies everything that the GEM Award for Lifetime Achievement symbolizes."
Morrow's passion for cultivating talent and building relationships with artists and luxury brands has made Reinhold Jewelers a name to be reckoned with in the industry for more than 35 years.
Over the year's Morrow and her store have been recognized with accolades that include the Women's Jewelry Association's Retailer of the Year in 2003 and Best Retailer at the Designer Retailer Awards in 2006. In 2010, she was awarded the first Couture Human Spirit Award for her unwavering dedication to the jewelry community and for her selfless work for the numerous charities she has assisted throughout the years.
The GEM Awards are considered the Academy Awards of the jewelry industry.