UPR student wins Singularity University competition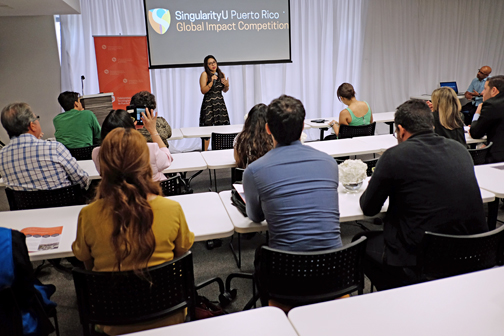 Simara Laboy-López, a 22-year-old Biochemistry doctoral student from the University of Puerto Rico, beat out two other competitors to win the first local edition of the Singularity University Global Impact competition, the Puerto Rico Science, Technology and Research Trust announced Monday.
She won and will travel to the prestigious institution in Silicon Valley, California after presenting a project that creates a technology that purifies and remedies water contaminated with nitrates, providing clean water to billions of people who have no access to or become sick or die, by its consumption.
According to Laboy's research, 57 percent of the global population lacks access to potable water, or consumes contaminated water, out of need.
"I decided to participate by a recommendation of Dr. Eduardo Nicolau, my doctoral thesis mentor, who motivated me to participate of this competition. Even though I believe in the global impact my project could have, I had no further expectations, especially knowing the quality of the other initiatives," she said. "This unique opportunity not only helps my professional growth, but it exposes the work of Puerto Rican scientists to the world."
The will travel to California during the month of June to participate in the international edition of the "Global Impact Competition" at Silicon Valley, a 10-week educational experience sponsored by the Research Trust.
The global competition seeks to identify innovative technological solutions to improve the level of life for millions of people over the next decade. The participants were challenged to present projects to solve the areas of most vulnerable problems confronted in the planet such as: learning, energy, food supply, health issues, prosperity, safety, water, space, resilience to natural disasters, and governance.
"This competition has allowed us to identify ideas of global reach that Puerto Rico innovators are developing to exponentially advance knowledge and progress of mankind. The result of this first edition of the competition of Global Impact has greatly pleased the Trust," said Iván Ríos-Mena, COO of the Trust and organizer of the event in Puerto Rico.